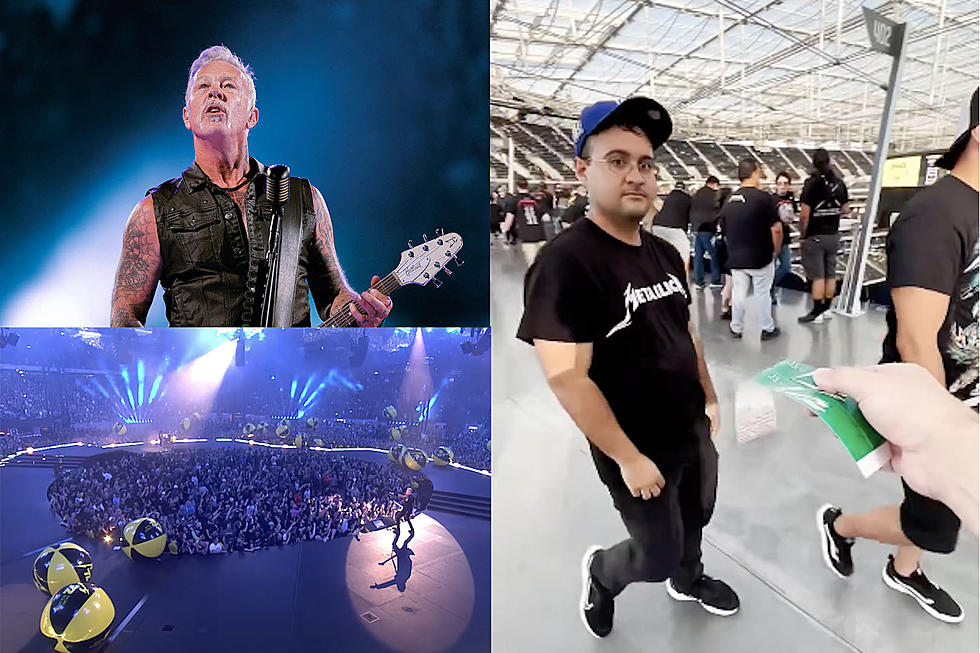 Metallica Fans Offered 'Snake Pit' Passes at Show, Have Hilarious Reactions
Sarah Waxberg, Live Nation / YouTube - Metallica / Instagram - @Metallica
The "Snake Pit" is one of the most coveted sections of Metallica's M72 world tour to get tickets for, but they're also the priciest. Some random fans at one of their recent shows were offered passes for the pit, and they had hilarious reactions.
Metallica uploaded a Reel on their Instagram that shows someone from the first-person perspective walking up to random fans at the venue and holding green Snake Pit wristbands out to them. A lot of the fans stared back rather suspiciously, not sure what it meant, why they were receiving them or whether they should trust the individual.
"Didn't think we needed to say this, but if someone approaches you with Snake Pit tickets... take them!" Metallica wrote in the caption.
As the video progressed, some fans took the passes, some questioned the person giving them out and others just simply brushed them away. It makes sense that people would be skeptical, given how frequently ticket scams happen and how easy it is to make counterfeit passes. But these were real, and the fans who accepted the massive ticket upgrade were pretty excited about it.
See the video below.
The Snake Pit is a circle-shaped standing section of the floor that's located inside of Metallica's stage, so it offers an extremely intimate view of the bands as they circle around during the show. According to Michigan Live, tickets for the pit ranged from $1,038 to $4,398 when they first became available, depending on which level "experience" package buyers wanted. The lowest-priced level available was called the "Moth Into Flame Snake Pit Experience," which also included a pre-show party, merchandise item and drink.
READ MORE: What Metallica's $7,000 'Enhanced Experience' Ticket Package Gets You
"This guy was literally a fucking legend! I was on the receiving end of this and goddamn it made my entire year... I love this man," someone commented on Metallica's video.
The band's next performances are scheduled for Sept. 1 and 3 in Phoenix, Arizona. Then, they'll have a few weeks off before playing the massive Power Trip festival in Indio, California with Guns N' Roses, Iron Maiden, Judas Priest, Tool and AC/DC. See the rest of their upcoming dates on their website.
Every Artist That's Opened for Metallica Over the Last 10 Years
These are all of the acts that have opened for Metallica over the last 10 years.