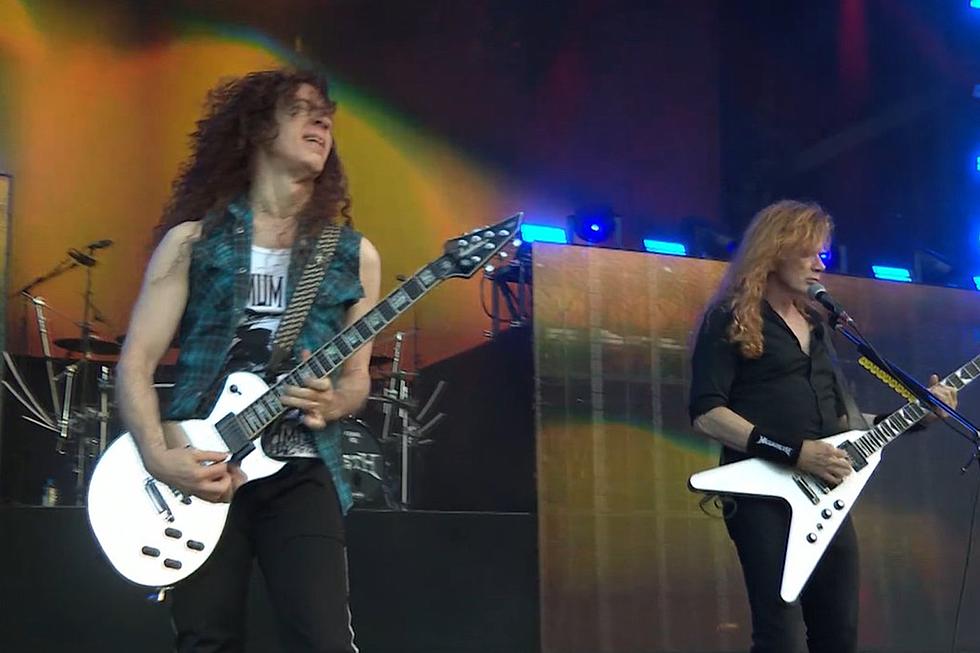 Marty Friedman Makes Surprise Appearance With Megadeth for 4 Songs During Wacken Open Air Festival
Twitter - @Winklmeier / Magenta Musik
Fans in attendance for Megadeth's set at the Wacken Open Air festival in Germany today (Aug. 4) got a special surprise when Marty Friedman made a surprise guest appearing, joining the group onstage for four songs.
Friedman already reunited with Megadeth once this year in Tokyo, Japan at the Nippon Budokan arena. Though it was a big deal, fans on Reddit speculated that it was out of convenience, since Tokyo is where Friedman has resided for the last two decades.
This time, the reunion took place at the German festival, and the guitarist — who has his own set at the event — joined his former band onstage for a performance of the songs "Trust," "Tornado of Souls," "Symphony of Destruction" and "Holy Wars... The Punishment Due," which was part of their encore [via Setlist.fm].
Megadeth leader Dave Mustaine teased Friedman's appearance ahead of the performance, writing, "Wacken! Make sure to head over to the faster stage. We have a special surprise for you. You're not going to want to miss it," in a post on his Facebook, which featured an image of the duo from the performance that took place in Tokyo.
Megadeth just wrapped up their performance at the time this post was written, so there isn't much footage of the Wacken set on YouTube just yet. However, some fans have shared clips and photos on Twitter, which you can check out below.
Megadeth fans on Reddit seemed very pleased with the second reunion, with some feeling hopeful that it's a sign he'll join the band more frequently in the future.
READ MORE: Dave Mustaine Names the 'Only' Ex-Megadeth Member Who's 'Ever Done Anything Significant'
"I want Dave and Marty to be convinced over the idea of a 3-guitar lineup like how Iron Maiden has grown to do," one fan wrote. "It would be colossal, make sense for some older songs that have a 3rd guitar track going on for rhythm, and would definitely add a new layer to Megadeth's sound going forward."
This post will be updated as more footage of the performance surfaces.
The 10 Biggest Rock + Metal Bands With the Most Lineup Changes
But they've all made it work.