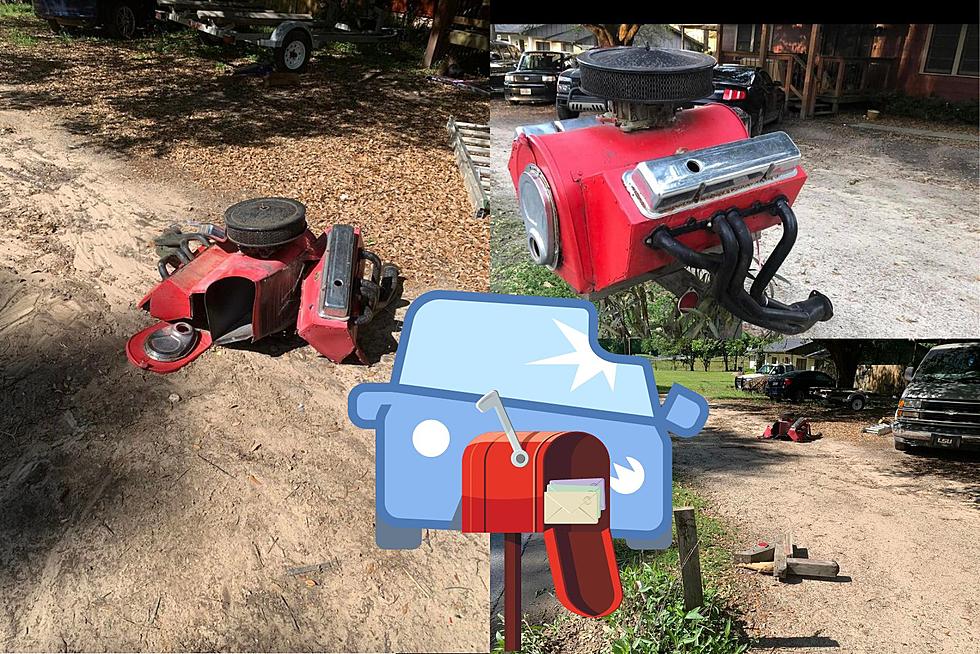 An Odd Lufkin, Texas Landmark Was Destroyed Over The Weekend
Bob Bowman via Facebook/Canva
Gearheads will love this mailbox
It's not actually a motor
Modified motor mailbox down, but not out
Every day on the way to and from work I follow the same route. I drive down, the aptly named Tulane Drive past Live Well and back behind Kiwanis Park in Lufkin.
On the drive, I can't help but notice what appears to be a bright red V8 350 engine repurposed as a mailbox. It has black headers, chrome valve covers and timing chain cover, a big carburetor, and an air cleaner to top it off.
It looks very real, and if you are into cars like I am, it's just cool. As I drive by at the posted 40 MPH I usually take a glance at Bob Bowman's garage.
It's just always fun to see which vehicle in his amazing car collection is just hanging out in the yard. Bob has a very particular taste in vehicles and has a good eye for future collectibles.
Bob Bowman Helps People All Over Angelina County 
He is also the owner of "All Season's Roofing" and is such a great guy, Bob is always helping someone out in the community with a roof, or a scholarship. That's why it was so troubling to see that bright red mailbox in pieces as I drove by this morning.
According to Bob's Facebook, he has a reward offered to find out who hit his mailbox at 4:00 PM Sunday, April 30th. If the person that hit the mailbox knew Bob, he would have just gone up to the door or at least left a note.
Bob is the type of guy that if you had, he would have offered to help you fix your car. You could have just picked up the broken pieces together and he would have helped you back on the road.
It's Not Just About The Mailbox, It's A Lufkin Landmark
It's just a shame that this happened, but Bob will have something up there again soon.
Right now we have a throwback mailbox that looks like someone is pouring a quart of paint on it. That will have to do until he figures out what he wants to put up there next.
He was currently toying around with the idea of a VW Bug engine look-alike next. I know that no matter what happens he will put something up there that will continue to draw interest from adults and children alike.
Just take it easy in that curve going toward Timberland next time. Here are some photos of the mailbox and what is currently up on Tulane Drive today.
A Lufkin, Texas Landmark Was Destroyed Over The Weekend
Local gearhead and owner of All Seasons Roofing, Bob Bowman, is offering a reward to the person that can identify the hit-and-run vehicle that destroyed this iconic Lufkin mailbox.
2 East Texas Teenagers Among 28 Kids Who Went Missing in April of 2023
Information is desperately needed to return 28 Texas kids to their home, including a Kilgore and Henderson family.