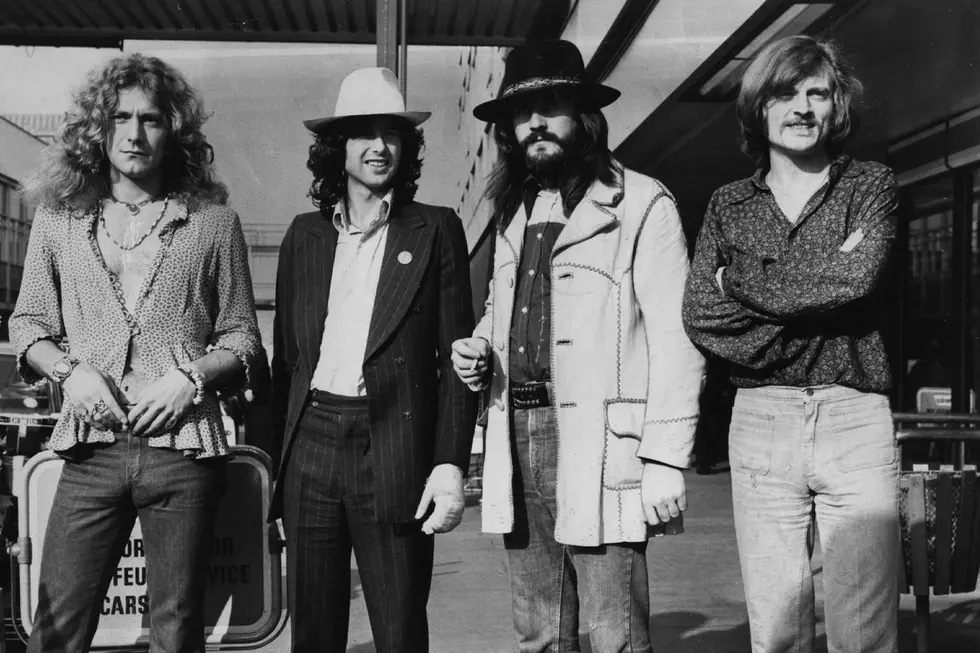 Led Zeppelin's 'Stairway to Heaven' Leads the 2023 National Recording Registry Inductees
Evening Standard, Getty Images
Since 2000, the Library of Congress has gathered some of the most iconic audio recordings in history and preserved them for future generations as part of the National Recording Registry, so you've really done something well to be be considered. This year's National Recording Registry inductees were just revealed and the list is led by a Led Zeppelin classic, the band's 1971 song "Stairway to Heaven" off their Led Zeppelin IV album.
The description that comes with the National Recording Registry's entry for "Stairway to Heaven" reads as follows:
The familiarity of "Stairway to Heaven" can obscure the fact that it is a carefully crafted song. Jimmy Page, Led Zeppelin's guitarist and producer, was responsible for much of the song's structure and feel. Early in his career as a studio musician, Page had learned that one of the cardinal rules of studio work was to keep an even tempo and resist the urge to speed up at all costs. Ironically, "Stairway to Heaven" violates this rule to masterful effect, as it gradually increases speed, while adding instruments one at a time. First, we hear a lone acoustic guitar, soon a recorder enters, and, as the sound broadens, we hear vocals, a 12-string guitar and bass. Remarkably, the drums don't enter until half way through the eight-minute song. As it gains momentum, the acoustic instruments fall away and we find ourselves listening to a fully electric hard-rock band. Bassist John Paul Jones contributed the recorder melody, lending a medieval feel to the song's early measures. He and drummer John Bonham's rhythm activities build to their usual huge and thunderous level. Few can imitate Robert Plant's singing, and his lyrics, most of which were written during the band's rehearsals, have appealed to a wide range of fans, while proving open to a bewildering number of interpretations. Finally, Page recorded one of the most tasteful solos in rock music. Selected for the 2023 registry.
Led Zeppelin, "Stairway to Heaven"
READ MORE: What 10 Artists Thought About Huge Bands That Covered Their Songs
"The National Recording Registry preserves our history through recorded sound and reflects our nation's diverse culture," said Librarian of Congress Carla Hayden in a statement naming 25 recordings to be preserved for posterity this year.
As you might guess, by starting in the year 2000, there's a whole lot of history to comb through each year, even preceding the rock 'n' roll era. The oldest additions to the registry for this year date back to 1908 and 1909, providing the earliest surviving recordings of mariachi music. This years also includes the first inducted recording by a female rapper (Queen Latifah's "All Hail the Queen") and the first ever induction of a video game soundtrack theme (Super Mario Bros. theme by Koji Kondo).
The annual list usually includes a mix of popular songs, radio broadcasts, significant speeches and more, all intended to define the sound of the country's history and culture. But, for the first time, it will include the music of a female rapper and the soundtrack of a video game.
Other more modern recordings that will be entering the National Recording Registry this year include John Lennon's "Imagine," John Denver's "Take Me Home, Country Roads," Jimmy Buffett's "Margaritaville," Irene Cara's "Flashdance... What a Feeling," The Eurythmics' "Sweet Dreams (Are Made of This)," The Police's "Synchronicity," Madonna's "Like a Virgin" and Mariah Carey's "All I Want for Christmas Is You." You can see the full list of recordings going into the National Recording Registry for preservation below.
And to see all of the titles compiled by the National Recording Registry, as well as the descriptions for all of the entries, check here.
2023 National Recording Registry Inductees
1. "The Very First Mariachi Recordings" — Cuarteto Coculense (1908-1909)
2. "St. Louis Blues" — Handy's Memphis Blues Band (1922)
3. "Sugar Foot Stomp" — Fletcher Henderson (1926)
4. Dorothy Thompson: Commentary and Analysis of the European Situation for NBC Radio
(Aug. 23-Sept. 6, 1939)
5. "Don't Let Nobody Turn You Around" — The Fairfield Four (1947)
6. "What the World Needs Now is Love" — Jackie DeShannon (1965)
7. "Wang Dang Doodle" — Koko Taylor (1966)
8. "Sherry" — The Four Seasons (1962)
9. "Ode to Billie Joe" — Bobbie Gentry (1967)
10. "Déjà Vu" — Crosby, Stills, Nash and Young (1970)
11. "Imagine" — John Lennon (1971)
12. "Stairway to Heaven" — Led Zeppelin (1971)
13. "Take Me Home, Country Roads" — John Denver (1971)
14. "Margaritaville" — Jimmy Buffett (1977)
15. "Flashdance...What a Feeling" — Irene Cara (1983)
16. "Sweet Dreams (Are Made of This)" — Eurythmics (1983)
17. "Synchronicity" — The Police (1983)
18. "Black Codes (From the Underground)" — Wynton Marsalis (1985)
19. Super Mario Bros. theme — Koji Kondo, composer (1986)
20. "Like a Virgin" — Madonna (1984)
21. "All Hail the Queen" — Queen Latifah (1989)
22. "All I Want for Christmas is You" — Mariah Carey (1994)
23. "Pale Blue Dot" — Carl Sagan (1994)
24. "Gasolina" — Daddy Yankee (2004)
25. "Concerto for Clarinet and Chamber Orchestra— Northwest Chamber Orchestra, Ellen Taaffe Zwilich, composer (2012)
Top 70 Hard Rock + Metal Albums of the 1970s