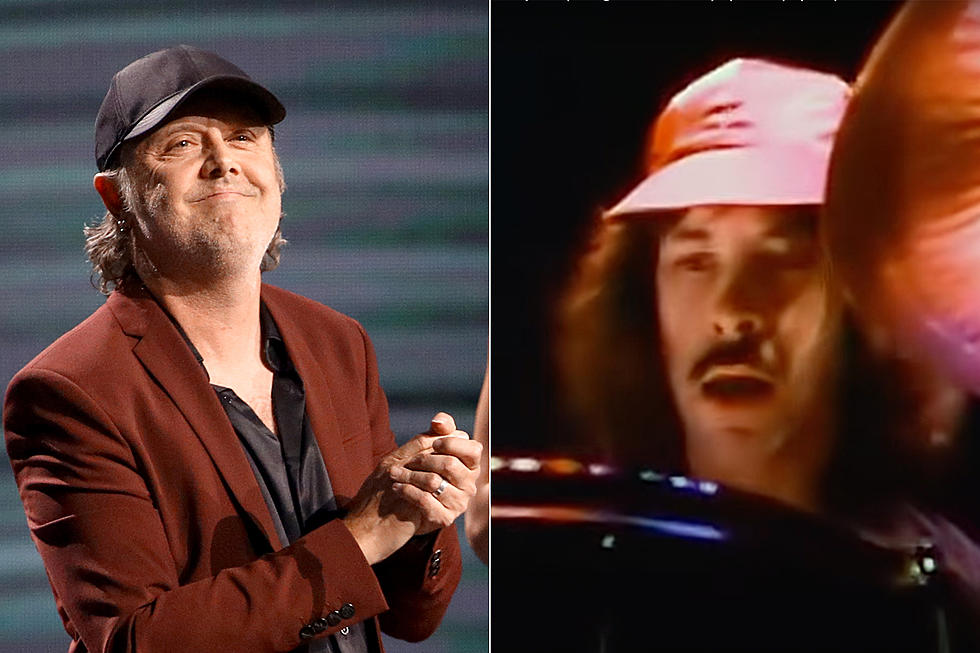 Lars Ulrich Names the Classic Rock Drummer He's Listening To Right Now
Rich Fury, Getty Images / YouTube: MadFranko008
Metallica's Lars Ulrich pulls from a wealth of musical inspiration, and during a recent chat that was shared via The Metallica Report podcast (as heard below), the drummer shared who he's been listening to of late. The drummer that's really caught his attention isn't someone new. In fact, it's a musician that pre-dates Metallica forming as a band. Lars gives props to Blue Oyster Cult drummer Albert Bouchard.
"I'm going through a Blue Oyster Cult phase right now," the drummer revealed, when asked a fan question about which drummers he's been listening to. "What happens to me is I get into different stuff of different artists at different times, and right now my go-to early Blue Oyster Cult record has been Secret Treaties. I just, in the last week or two, have been digging into Tyranny and Mutation, which has got 'Hot Rails To Hell,' '7 Screaming Diz-Busters,' 'The Red & the Black.' So I'll have to say Albert Bouchard, who's the drummer and one of the primary songwriters in Blue Oyster Cult."
Further touting Bouchard, he continued, "He actually sings lead on a bunch of the songs. He was actually one of the first singing drummers. So my tip to you would be go check out some of the early Blue Oyster Cult records. Get into a little Tyranny And Mutation. But the fallback early Blue Oyster Cult album is always Secret Treaties with 'ME 262,' 'Dominance and Submission,' 'Career of Evil,' 'Harvester of Eyes,' 'The Subhuman.'"
READ MORE: Lars Ulrich Describes What Makes a Good Opening Song for Concerts
More About Albert Bouchard
Bouchard was a founding member of Blue Oyster Cult, rocking with the band from 1967 through 1981. That put him right in the heart of some of the band's biggest successes, including the hit songs "(Don't Fear) the Reaper," "Burnin' for You" and "In Thee."
The drummer exited the band in 1981, opting to pursue a solo record, but returned for a tour in 1985. But when it became clear he was not being asked back permanently, Bouchard left the band again.
After his exit from the band, he went on to perform on records for Mike Watt, Richie Stotts, Gumball and Fabienne Shine. He also enjoyed an extended stay with the band Brain Surgeons and got into producing records for other musicians. Of late, he's been mostly involved in working on a trilogy of albums under the Imaginos moniker.
Check out some of Bouchard's works with Blue Oyster Cult below the podcast player.
Lars Ulrich Appears on The Metallica Report Podcast
Blue Oyster Cult, "(Don't Fear) the Reaper"
Blue Oyster Cult, "Hot Rails to Hell"
Blue Oyster Cult, "Career of Evil"
Rockers Who Have Defended Lars Ulrich
Why does Metallica drummer Lars Ulrich need defending? It seems almost bizarre that the question even has to be asked. But as dyed-in-the-wool Metallica fans know, a certain subset of metal listeners seem intent on consistently criticizing his drumming skills. Still, Ulrich has had several fellow musicians who have come to his defense, including other drummers. Below, see what they had to say about it.