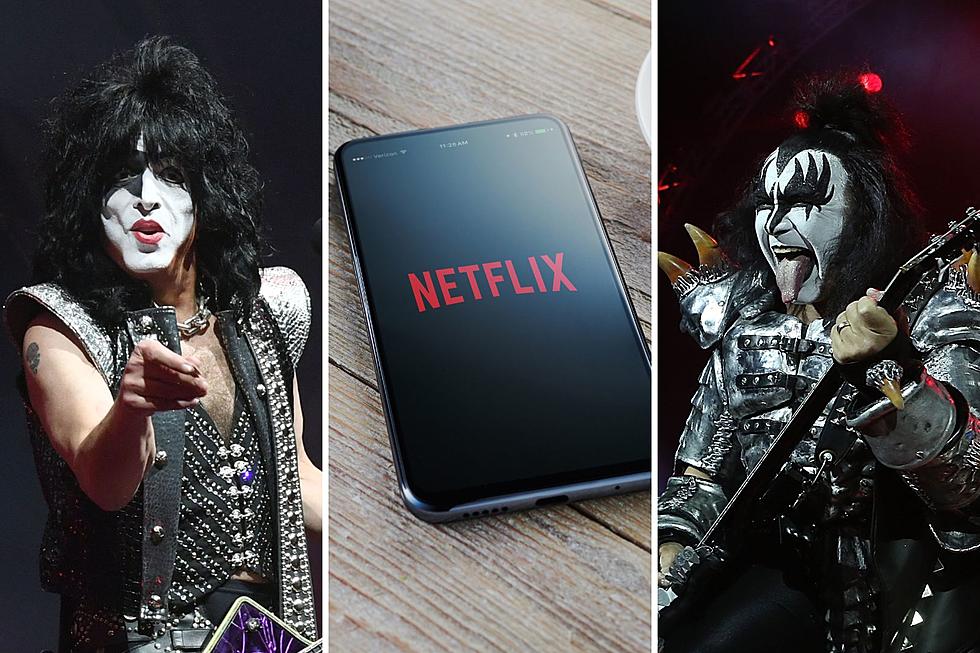 Everything We Know So Far About the Upcoming KISS Biopic on Netflix
Kevin Winter / Olly Curtis / Paul Kane, Getty Images
In a new interview, KISS manager Doc McGhee said the band's in-the-works biopic film that reportedly landed at Netflix is a done deal and would be coming soon, signaling to next year for its release.
But what all do we know about the upcoming Netflix portrayal of the classic rock group's rise?
Watch the video down toward the bottom of this post.
The movie is expected to dramatically re-enact KISS' story in a way similar to past rock biopics such as 2010's The Runaways or the 2019 Motley Crue portrayal, The Dirt. It will focus on the early days of KISS' Paul Stanley and Gene Simmons.
READ MORE: KISS Debunk Long-Rumored Satanic Acronym Stands for Their Band Name
KISS Biopic Release Date
The KISS biopic, called Shout It Out Loud after the band's 1976 Destroyer track, will be coming out in 2024, according to McGhee.
"We're just starting it now," he said in March. "We've already sold it. It's already done. … So that's moving along. And that'll come in '24." (via Blabbermouth)
How KISS Made the Netflix Deal
Two years ago, Netflix was reported to be in a bidding war to release the KISS biopic. With McGee's latest confirmation, a Netflix release for Shout It Out Loud appears to be set in stone.
In 2021, Deadline revealed the movie deal and cited an anticipation for success that could equal Bohemian Rhapsody, the 2018 Queen biopic.
The KISS project was said to be getting the fast track as a co-production between Atmosphere Entertainment and Universal Music Group through film producers Mark Canton (Atmosphere), Leigh Ann Burton (Opus 7), Courtney Solomon, David Blackman and Jody Gerson (Universal Music), as well as McGhee, Stanley, Simmons and the director of Shout It Out Loud, Joachim Rønning (Kon-Tiki, Maleficent: Mistress of Evil, Pirates of the Caribbean: Dead Men Tell No Tales).
Dorothy Canton and David Hopwood signed on as executive producers to helm the Shout It Out Loud script composed by Ole Sanders, who worked with Simmons and Stanley after an early draft by William Blake Herron.
The Script for the KISS Biopic
"The script was really good," Stanley said that year after confirming the film's production in a tweet. "We really waited until we felt comfortable," he added. "You get one chance to do it, and I would rather not do it than do it half-assed or poorly. Our director is the real deal. He did Maleficent 2, and he's not some hack."
In a 2021 interview, McGhee explained, "Mark Canton, who is a very, very powerful producer and production company who has the TV series Power and Ghost and all that stuff, and he was a president of Sony and all that, he's done 300 films — a really, really great guy — his team and Universal Music and ourselves have partnered up with Joachim Rønning, who is a very sought-after director. … And the script is about the first four years of KISS. Basically, it's before they were famous."
KISS Netflix Movie Cast
We don't yet know what actors will portray the KISS members in the Netflix biopic. Various sources have floated their own fantasy cast lists. From what Stanley has said, we know they will choose young actors.
"To be accurate in terms of age," Stanley explained in 2021, "we are looking at actors in their early 20s."
He continued, "When people get asked these kinds of questions, they'll say, 'Oh, Brad Pitt,' or this one or that one. Well, those guys are in their 50s or 60s, so you're talking about another generation of actors. And I'm the first to say I'm not up on a lot of them. But as the casting process goes on, I'll certainly be there."
Stanley added that it would be interesting to see how the "casting people or the director … view who I am and who they see doing that. I think I'll learn a lot about their perception of me by who they cast."
KISS at the End of the Road
KISS' "End of the Road World Tour" is scheduled to conclude in 2023. First announced in 2018, it was at one point scheduled to end in 2021. See the upcoming dates under the video. Get tickets here.
Click here for a list of rock and metal bands touring in 2023. Sign up for Loudwire's newsletter and get the Loudwire app to stay up to date.
KISS Manager Doc McGhee on Rock Experience w/ Mike Brunn - March 22, 2023
KISS 2023 Tour Dates
April 12 – Manaus, Brazil @ Arena Amazonia
April 15 – Bogota, Columbia @ Estadio Campin
April 18 – Brasilia, Brazil @ Mane Garrincha
April 20 – Belo Horizonte, Brazil @ Mineirao
April 22 – Sao Paulo, Brazil @ Allianz Parque
April 25 – Florianopolis, Brazil @ Hard Rock
April 30 – Santiago, Chile @ Santa Lauro
May 27 – Columbus, Ohio @ Sonic Temple
June 3 – Plymouth, England @ Argyle Stadium
June 5 – Birmingham, England @ Home Park
June 6 – Newcastle, England @ Resorts World
June 10 – Prague, Czech Republic @ O2 Arena
June 12 – Amsterdam, Netherlands @ Ziggo Dome
June 13 – Belgium, Brussels @ Palais 12
June 15 – Clisson, France @ Hellfest
June 17 – Munchen, Germany @ Konigsplatz
June 19 – Krakow, Poland @ Arena Krakow
June 21 – Dresden, Germany @ Halle 1
June 22 – Berlin, Germany @ Schmeling Halle
June 25 – Cartagena, Spain @ Rock Imperium
June 27 – Lyon, France @ Halle Garnier
June 29 – Tuscany, Italy @ Lucca Festival
July 1 – Mannheim, Germany @ SAP Arena
July 2 – Cologne, Germany @ Laxness Arena
July 5 – London, England @ O2 Arena
July 7 – Manchester, England @ AO Arena
July 8 – Glasgow, Scotland @ OVO Hydro
July 12 – Rattvik, Sweden @ Dalhalla Amp.
July 13 – Rattvik, Sweden @ Dalhalla Amp.
July 15 – Tonsberg, Norway @ Kaldnes
Oct. 29 – Austin, Texas @ Moody Center
Nov. 1 – Palm Springs, Calif. @ Acrisure Arena
Nov. 3 – Los Angeles, Calif. @ Hollywood Bowl
Nov. 6 – Seattle, Wash. @ Climate Pledge Arena
Nov. 8 – Vancouver, British Columbia @ Rogers Arena
Nov. 10 – Edmonton, Alberta @ Rogers Place
Nov. 12 – Calgary, Alberta @ Saddledome
Nov. 13 – Saskatoon, Saskatchewan @ SaskTel Ctr
Nov. 15 – Winnipeg, Manitoba @ Canada Life Ctr
Nov. 18 – Montreal, Quebec @ Centre Bell
Nov. 19 – Quebec, Quebec @ Videotron Ctr
Nov. 21 – Ottawa, Ontario @ Canadian Tire Ctr
Nov. 22 – Toronto, Ontario @ Scotiabank Arena
Nov. 24 – Knoxville, Tenn. @ Thompson-Boling Arena
Nov. 25 – Indianapolis. Ind. @ Gainbridge Fieldhouse
Nov. 27 – Rosemont, Ill. @ Allstate Arena
Nov. 29 – Baltimore, Md. @ CFG Arena
Dec. 1 – New York, N.Y. @ Madison Square Garden
Dec. 2 – New York, N.Y. @ Madison Square Garden
23 Actors Who Transformed Into Real-life Rockstars for Movies