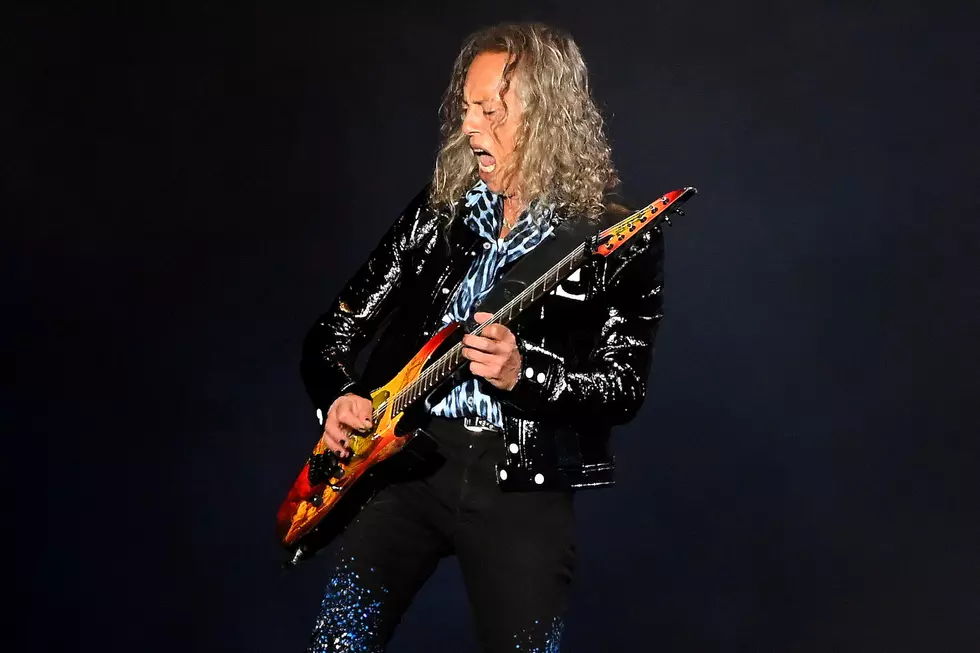 Kirk Hammett Releases Cinematic Solo Song 'High Plains Drifter'
Paras Griffin, Getty Images
Metallica guitarist Kirk Hammett has released a solo song titled "High Plains Drifter," the first taste of his upcoming debut solo EP, Portals.
You can listen to the tune below.
The cinematic instrumental track begins with clean guitar arpeggios and brooding orchestral swells before giving way to overdriven chugs, thundering drums and a dramatic string arrangement. Conductor Edwin Outwater, Queens of the Stone Age drummer Jon Theodore and members of the Los Angeles Philharmonic all contributed to the song.
"High Plains Drifter" shares its title with a 1973 Western starring and directed by Clint Eastwood. Hammett explained in a statement that the song "was not meant to be specifically music for that film, but it was once it was written, I immediately thought it conveyed the same sentiment as the film, so the piece was christened accordingly. The music for 'High Plains Drifter' initially came from a flamenco piece I had written. It was a two-and-a-half-minute piece, and I really liked it, but it was one of those riffs that would be hard to integrate into Metallica.
"I knew I wanted to do something with it, even though it came out spontaneously," Hammett continued. "I had been sitting outside messing around with a flamenco acoustic guitar I'd just bought, and it flowed out in the moment. I was determined it would have a life. It would have its moment."
Hammett will release the four-song Portals on April 23. It will be available digitally, on CD and as an exclusive Record Store Day ocean-blue vinyl edition. The guitarist produced the EP and mixed it with longtime Metallica producer Bob Rock, who worked with the band from 1991's Black Album through 2003's St. Anger.
"This music was created with what I describe as an Audio-Cinematic approach," Hammett said in a statement. "They're soundtracks to the movies in your mind."
Metallica Albums Ranked
There are moments of indecision when compiling this gallery of Metallica Albums, Ranked Worst to Best. After all, we really could have had – for the first time ever – a three-way tie for first.