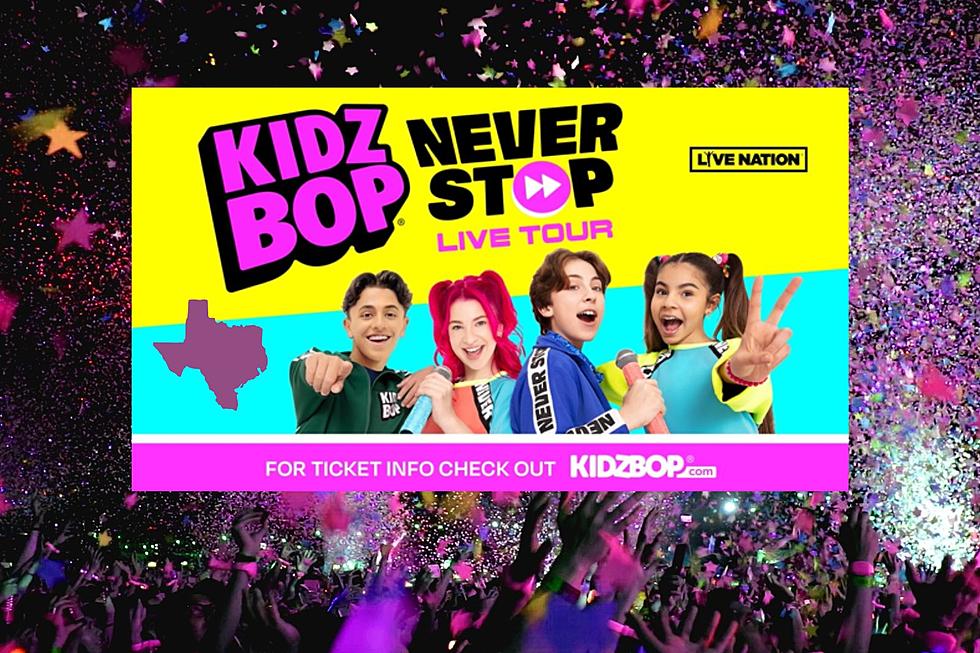 The Ultimate Pop Concert For Kids Is Stopping In Two Texas Cities
Live nation/Canva
The Kids Are Back In School But If They Are Doing The Right Thing And Getting Good Grades, Then Give Them A "Reward" For Starting School Off Right With A Trip To A Big Show In Fort Worth Or San Antonio!
KIDZ BOP, the #1 music brand for kids, in partnership with Live Nation, is extending its popular KIDZ BOP Never Stop Live Tour by adding 21 shows this fall. This announcement follows a highly successful summer amphitheater run where the KIDZ BOP Kids performed to hundreds of thousands of fans, including 10+ sold out shows.
The family-friendly show features the KIDZ BOP Kids - Cliff, Kiya, Shila, and Tyler- performing today's biggest pop hits live on stage.
Bring the kids out to watch them perform smash hits like "Anti-Hero," "CUFF IT," "As It Was," and more. The show also includes fun choreography, special effects, and the fan-favorite Daddy Dance Off, giving dads the chance to show off their best dance moves on stage.
Since its launch, the family-friendly music brand has sold more than 23.5 million albums and generated over 9 billion streams.
KIDZ BOP connects with kids and families through its best-selling albums, music videos, consumer products and live tours. The music franchise is expanding internationally and currently records in 5 different languages. KIDZ BOP is Billboard Magazine's "#1 Kid Artist" for eleven years.
KIDZ BOP has had 24 Top 10 debuts on the Billboard 200 Chart; only three artists in history—The Beatles, The Rolling Stones, and Barbra Streisand—have had more Top 10 albums.
Presales Begin on September 13; General On Sale Begins on September 15
The tour will make a stop at Majestic Theatre in San Antonio, TX, on November 24, and Will Rogers Auditorium in Ft. Worth, TX, on November 25. For tour dates and ticket information, visit KIDZBOP.com/tour.
Kids' Eat Free? Yes! Here's Over 20 GREAT Options Around Tyler and Longview
Let me know if there are any we've left off the list! We'd like to make this as useful of a guide as possible for parents all over East Texas! Also, give a quick call before you go. Restaurants may change their policies so it's best to double-check.
5 Worst Things Kids Can Find in Their halloween Trick or Treat Bags
3 East Texas Teens Went Missing in August as Did 19 Other Texas Kids
2 families in Lufkin, a family in Jacksonville and a family in Canton are looking for their missing teenager.