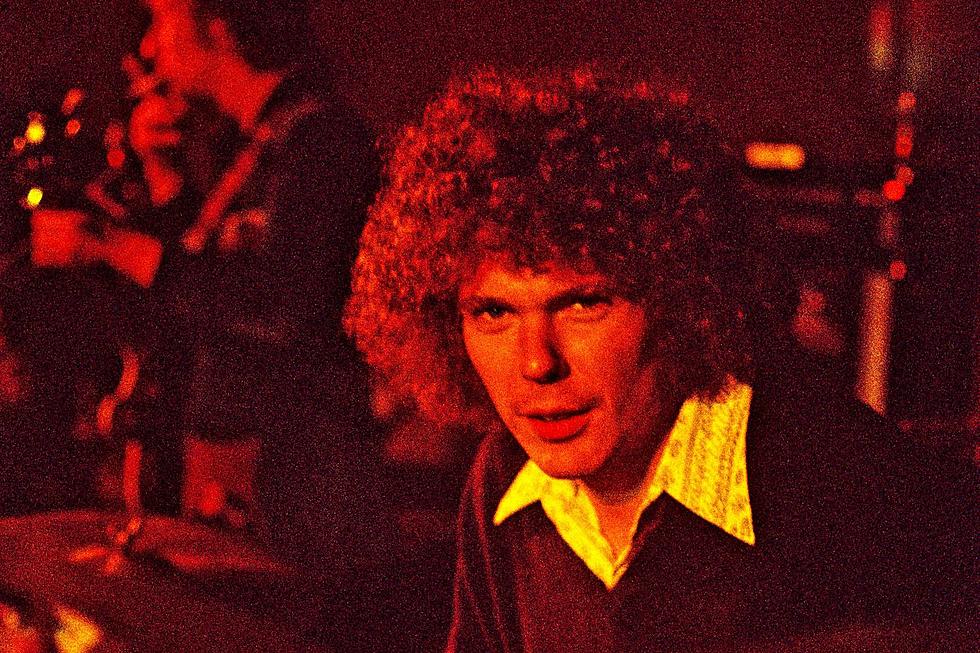 Jim Gordon, Eric Clapton's Derek and the Dominos Drummer Convicted of Murdering His Mother in the '80s, Dead at 77
Brian Cooke, Redferns/Getty Images
Jim Gordon, the drummer who co-wrote Derek and the Dominos' "Layla," and was convicted of murdering his mother in the '80s, has died at the age of 77.
A rep on behalf of Gordon told the New York Post that the musician died this past Monday (March 13) at the California Medical Facility in Vacaville of "after a long incarceration and lifelong battle with mental illness." His death was ruled a result of "natural causes."
Although Gordon is best known as the drummer for Derek and the Dominos and Traffic, he was an extremely sought-after drummer throughout much of the 1960s and '70s. Throughout his career, he played on releases by The Everly Brothers, The Beach Boys, Eric Clapton, Alice Cooper, George Harrison, John Lennon, Cher, Joan Baez, Tom Petty and the Heartbreakers, Steely Dan and many more. But by the late '70s, a combination of mental health and addiction issues started to take a toll on his wellbeing.
Several years into his career, the drummer started suffering from intense paranoia, which he used various substances to try and mediate, according to a 1985 Rolling Stone article. Others started to notice him growing increasingly aggressive and paranoid at times, especially the women he had relationships with.
"His violent feelings toward women probably could be traced to the fact that his mother was the strong parent, perhaps the one responsible for discipline. It's not much to hang your hat on, but he didn't need much. He was — is — crazy," Dr. William Vicary, who was one of the psychiatrist's on Gordon's defense team, told the magazine of the musician's behaviors.
According to the doctor, Gordon suffered from schizophrenia, which is a disorder defined by the Mayo Clinic as "a serious mental disorder in which people interpret reality abnormally." There are a wide range of symptoms, from delusions and hallucinations, to disorganized speech and abnormal behavior. Intense paranoia is also a common indicator.
"The voices started out friendly," Gordon explained to Rolling Stone. "They were giving me little pointers. How to take care of myself and the house. How to shop. I was glad for the help. I was getting ready for the rest of my life. I thought it was pretty strange, but there was nothing I could do about it. I heard them all the time. They would tell me if I was doing right or wrong."
Eventually, it was his mother's voice that he heard, and it started consuming him. He checked himself in and out of psychiatric facilities several times, and then eventually started to become a recluse because he was afraid to be out in public.
"He couldn't function in the normal everyday world," one of his friends, guitarist Larry Rolando, said. "Who had any experience with whatever was wrong with him? He wouldn't talk. Then there was that look. He didn't trust anyone."
After years of hearing his mother's voice — which he claimed told him to kill her — he showed up at her door one day in June of 1983, hit her with a hammer repeatedly and then stabbed her in the chest with a knife.
"I had no interest in killing her," he confessed. "I wanted to stay away from her. I had no choice. It was so matter-of-fact, like I was being guided like a zombie. She wanted me to kill her, and good riddance to her."
Gordon was charged with second-degree murder and sentenced to 16 years to life in prison.
"When I remember the crime, it's kind of like a dream," Gordon recalled years after the murder [via Washington Post]. "I can remember going through what happened in that space and time, and it seems kind of detached, like I was going through it on some other plane. It didn't seem real."
Rockers We've Lost in 2023
Rock and metal musicians and icons who died in 2023.