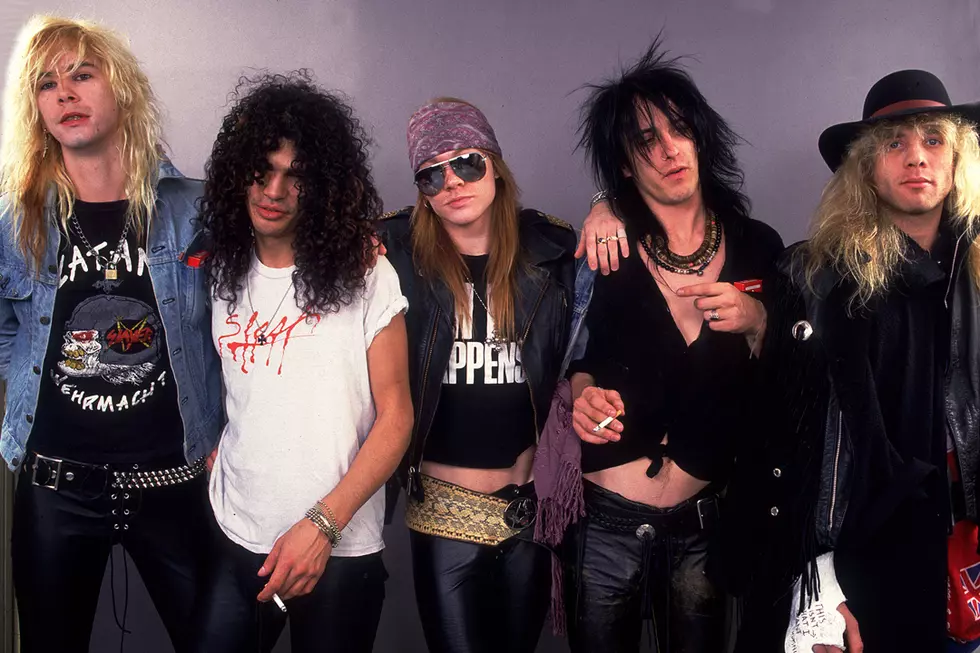 The Day Izzy Stradlin Played His Last Show as a Member of Guns N' Roses
Geffen
Guns N' Roses were on top of the rock world in 1991, but all was not well behind the scenes. The group spent the summer touring behind its heavily anticipated Use Your Illusion albums — even though a series of delays meant the records wouldn't reach stores until September. They hit the road with a new drummer, Matt Sorum, who'd been enlisted to replace the fired Steven Adler. And a series of late starts and ugly incidents during the tour — most notably a riot that erupted after an aborted GNR set in St. Louis — created the impression of an increasingly dark cloud over the band.
After finishing a lengthy leg of U.S. dates in early August 1991, they traveled to Europe for a seven-show run taking them from Finland on Aug. 13 to London's Wembley Stadium on Aug. 31. Although fans wouldn't find out for months, the Wembley date marked the band's next stumbling block in a year that already seemed to be full of them: That night, co-founding rhythm guitarist Izzy Stradlin played his last show as a member of the band. He officially quit on Nov. 7, less than a month before the start of their next U.S. leg, and was replaced by Gilby Clarke.
As Stradlin told Musician the following year, he'd made his decision after getting sober and realizing he no longer had as much of a tolerance for the air of chaos that surrounded the band — not to mention the constant thumb-twiddling that came with being part of such a massively popular act.
"I think you make more decisions when you're sober," said Stradlin. "And when you're fucked up, you're more likely to put up with things you wouldn't normally put up with. When I have something I wanna do, I gotta do it. I like just doing it. I didn't like the complications that became such a part of daily life in Guns N' Roses. Sometimes for the simplest things to happen would take days. Time was so slow, you sat around for days just to do a photo shoot. Schedule it, get a phone call, it's been delayed. Reschedule it, get a phone call, it's been delayed again. That pattern could stretch out for weeks."
That pattern, added Stradlin, persisted even in the studio. "On Illusion, we did the basic tracks in about a month. Then there was a time lag of about a year before the vocals were finished," he explained. "I went back to Indiana and painted the house. If you've got a group and people are focused, it just shouldn't take that long."
Stradlin quickly got his own group together — the Ju Ju Hounds, featuring former Georgia Satellite Rick Richards on lead guitar — and released his solo debut in 1992, the first in a string of generally well-regarded but deliberately less commercial efforts that kept him creatively fulfilled while leaving him out of the spotlight.
He's continued to keep a fairly low profile in the years since leaving GNR, though the bad blood that inevitably erupted after his departure soon cooled enough to clear the way for a series of temporary returns. Stradlin first reunited with Guns N' Roses in 1993, playing a handful of dates while Clarke recovered from a broken wrist, and has since returned on a number of occasions — although he appears steadfastly uninterested in rejoining full-time, or even being part of the group's current reunion with founding members Slash and Duff McKagan.
Still, Stradlin is missed. In 2016, a fan at one of GNR's summer shows held up a sign asking "Where's Izzy?" — a reference to a sight gag in the group's video for "Don't Cry" — as a tribute to the absent guitarist. She later claimed the band's security team confiscated and destroyed the sign, allegations Guns N' Roses reps deny.
Guns N' Roses Lineup Changes: A Complete Guide