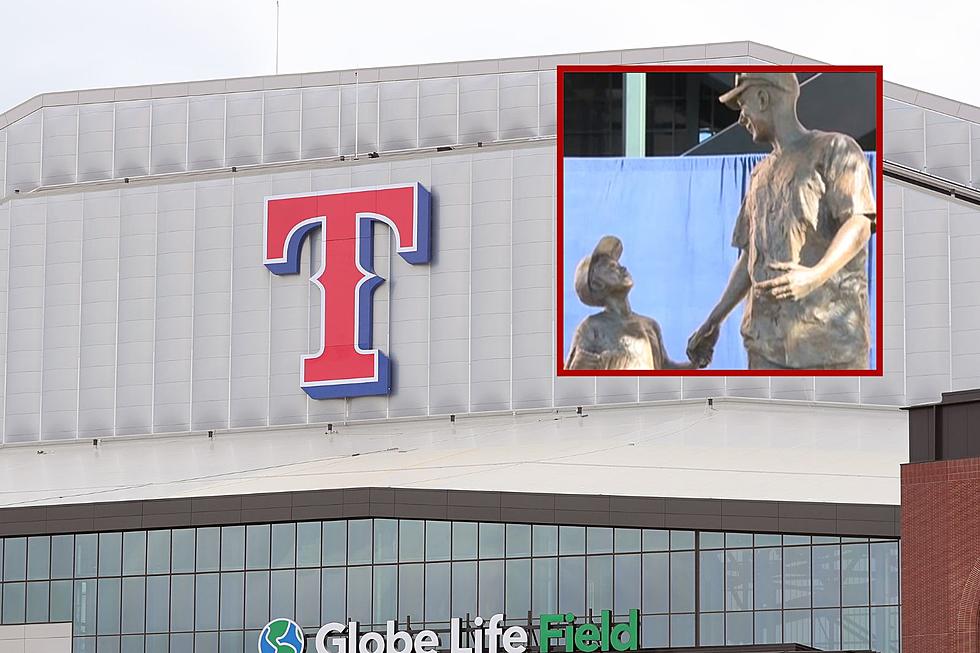 The Texas Rangers Firefighter Statue Reveals an Emotional Journey
Getty Images/Associated Press via YouTube/Canva
When you're in Texas, you'll see camps for either the Houston Astros or the Texas Rangers baseball team. Both teams have experienced decades of heartbreak & triumph. For the Texas Rangers, their fields have had many amazing statues with stories behind them. Over a decade ago, in 2011, there was a very special statue unveiled for a brave Texas firefighter. However the story is very tragic...this is the story of Shannon Stone of Brownwood, Texas.
Who was Shannon Stone?
Shannon Stone was a Texas firefighter who was born in Cleburne, Texas on September 24, 1971. He would join the Brownwood, Texas fire department & he enjoyed going to the Texas Rangers game with his son, Cooper Stone. On July 7th, 2011, while the Texas Rangers were taking on the Oakland Athletics, a foul ball would be lobbed into the crowd. In an effort to catch the ball for his son, he would sadly fall over the side of the railing...20 ft to the ground...head first.
While people were tending to Shannon, he begged people to check on his 6 year old son as he was alone. Shannon would tragically pass away from blunt trauma an hour later in the hospital.
Shannon's life would be remembered forever in Texas
Out of a sign of enormous respect, on September 30th, during Game 1 of the ALDS against the Tampa Bay Rays, the team would invite Cooper & his family onto the field to throw out the first pitch.
Shannon's life would be remembered in the form of a statue too.
On April 5th, 2012, a statue of Shannon & his son Cooper would be erected, as a tribute to the fallen firefighter.
While the new home for the Texas Rangers is Globe Life Field (and has been since 2020), may we never forget the story of one man's bravery & sacrifice to give his son an amazing time at a baseball game. His passing may be over 10 years old, but his story will remain in the hearts of his family, friends & the hearts of the Texas Rangers forever.
R.I.P. Shannon Stone
#LiveLikeLuke Coffee Event in Memory of Luke Laufenberg
UTEP head football coach Dana Dimel and quarterback Gavin Hardison gathered with North Texas sports celebrities today to honor the memory of former UTEP football player Luke Laufenberg.
The Life of El Paso Pizza Legend Larry Gold