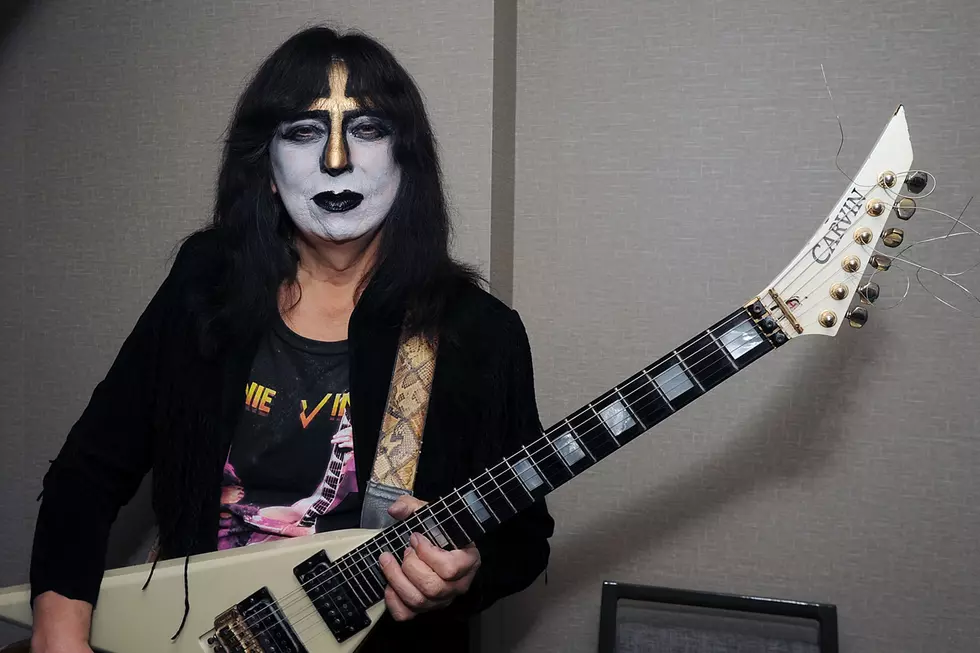 Vinnie Vincent Tells Fans to Expect New Album This Year
Bobby Bank, Getty Images
Vinnie Vincent told fans his new album was ready to go to the pressing plant after one final tweak.
In a social media post published on his behalf following a $500-per-ticker weekend party during which he played Judgment Day in full, Vincent discussed a timeline that made it likely the LP will arrive before the end of this year. Lead vocals are performed by Robert Fleischman, who was also on the 1986 Vinnie Vincent Invasion LP.
"Man, that was a happy, proud moment for me," the former Kiss guitarist wrote. "Three years in the making, with blistering performances by my friend Rob Fleishman and yours truly. It felt like VV#1 all over again. It's not a record for the 50-year-old crowd, though … unless you're 25 at heart!"
He noted that "there's one more studio tweak session I need to complete in raising the vocal levels a bit on all the songs, and then [it's] off to the record plant to press. Expect six months at least for vinyl production."
Fleishman is not part of Vincent's upcoming plans, but the guitarist hailed his new singer, Scott Board, after they jammed together at the party. Noting that one longtime associate said it was like listening to Fleishman if he closed his eyes, Vincent said, "For me [it was] the best time playing with a singer … since Rob and I cut the [first] record." He added a personal message to Board: "You da man! My friend, here's to us! I raise my glass to you. And it's only the beginning."
Vincent is planning another fan party to take place around Halloween, by which time Judgment Day could be available, especially if he decides to release it in formats other than vinyl. No details have yet been revealed about the album.
Kiss Lineup Changes: A Complete Guide
An in-depth guide to all of the personnel changes undergone by the "hottest band in the land," Kiss.