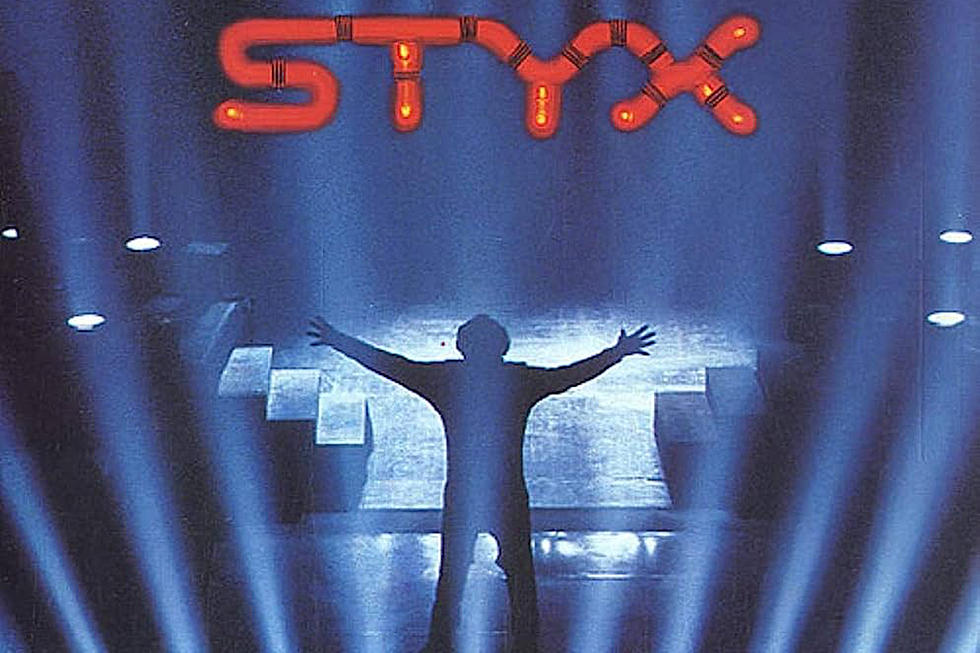 Why Dennis DeYoung Never Wanted 'Mr. Roboto' to Be a Styx Single
A&M
Styx released one of the most successful – and polarizing – songs in the band's history on Feb 28, 1983.
The origin of "Mr. Roboto" can be traced back a couple of years. Evangelical groups had claimed that Styx's 1981 LP Paradise Theater contained subliminal satanic messages. As protests intensified, Dennis DeYoung was put in a position where he had to defend the group's work. So, the topic of censorship was already looming in his mind when inspiration struck while Styx was on a tour of Japan.
DeYoung was taken by the country's hospitality, as well as their quickly advancing technology. "The Japanese people are just beautifully polite, hard-working, industrious," he later remembered. "And they said 'domo arigato' all the time, which is essentially 'Thank you very much.' And then when I was there, somebody said the name for robot in Japanese, 'roboto.'"
The phrase stuck in DeYoung's head, and when he returned home, he happened upon a PBS documentary about production factories using robotic technology. "I looked at that and I went, 'Oh my God, yeah! That's what can happen with technology. Humans? Who needs 'em. They get gas, they get acid reflux, they drink too much. Don't need 'em," DeYoung added. "And so I put all those ideas together, primarily because all the people who worked in those factories were the people I loved and grew up with."
DeYoung felt a larger narrative starting to take shape, and the concept aligned with another goal he had for Styx. He'd seen how acts such as the Beatles, the Who, Pink Floyd and the Rolling Stones found success making movies, and wanted to get Styx on film.
He ended up creating rock opera set in a dystopian future where rock music is banned. DeYoung would play the movie's protagonist, Robert Orin Charles Kilroy, a rock star imprisoned by fascist leader Dr. Everett Righteous (bandmate J.Y. Young). DeYoung envisioned the short film playing before concerts, providing a backstory before Styx came out live to perform their long-form LP. There was just one thing missing.
"What I needed is a song that's gonna go from the end of the story to live action on the stage where the concert and the story will continue," DeYoung explained. He devised "Mr. Roboto" as nothing more than a transitional piece. "I write Mr. Roboto, not as a single, not as a hit record, just explaining the premise so you can go from the movie to Act 1, Scene 1 on the stage," DeYoung revealed.
Watch Styx's 'Mr. Roboto' Video
As Styx prepped for the release of the accompanying concept album, titled Kilroy Was Here, record label executives suggested "Mr. Roboto" as the lead single. "That is not a hit single," DeYoung continually replied. Still, people around him kept pushing. "I never thought it was going to be a hit record – ever," he admitted to Songfacts, "and my wife said, 'Yes, it is' – and I said, 'No, it isn't.'"
DeYoung eventually relented and "Mr. Roboto" was released on Feb. 28, 1983. Of course, the song became a smashing success, peaking at No. 3 on the Billboard Hot 100. That's tied for the second-highest charting song of the band's career, behind only "Babe."
"Mr. Roboto" nevertheless marked a sharp change in direction, with its futuristic themes and synth-heavy, otherworldly sounds. New listeners were inevitably drawn in by the tune's grandiose style, but those who had loved Styx's earlier style were turned off.
"I contend, if we'd have released [the mid-tempo ballad] 'Don't Let It In' first, there would have been almost no controversy about the Kilroy project," DeYoung said. "Because Styx fans would have heard 'Don't Let It In' … and got what they wanted. 'Oh, there's Dennis singing a love song. OK, great.' But we took the chance."
Kilroy Was Here would go on to sell more than a million copies, an impressive number but far less than four predecessors which had each gone triple platinum. DeYoung's bold venture created a schism within Styx.
"It was a risk," Young admitted to Forbes. "I felt I had to back Dennis because he'd led the charge to that point, but he really got carried away with [Kilroy Was Here]. It was beyond my control. There's a bitter taste in my mouth from that whole period."
Styx broke up in 1984, following an expensive and, at times, contentious tour behind the LP. They eventually reunited, but "Mr. Roboto" remained largely absent from Styx set lists until becoming a belated concert staple in 2018.
Styx Albums Ranked
Come sail away as we rank Styx's albums, from worst to best.
Real-Life 'Spinal Tap' Stories: Styx