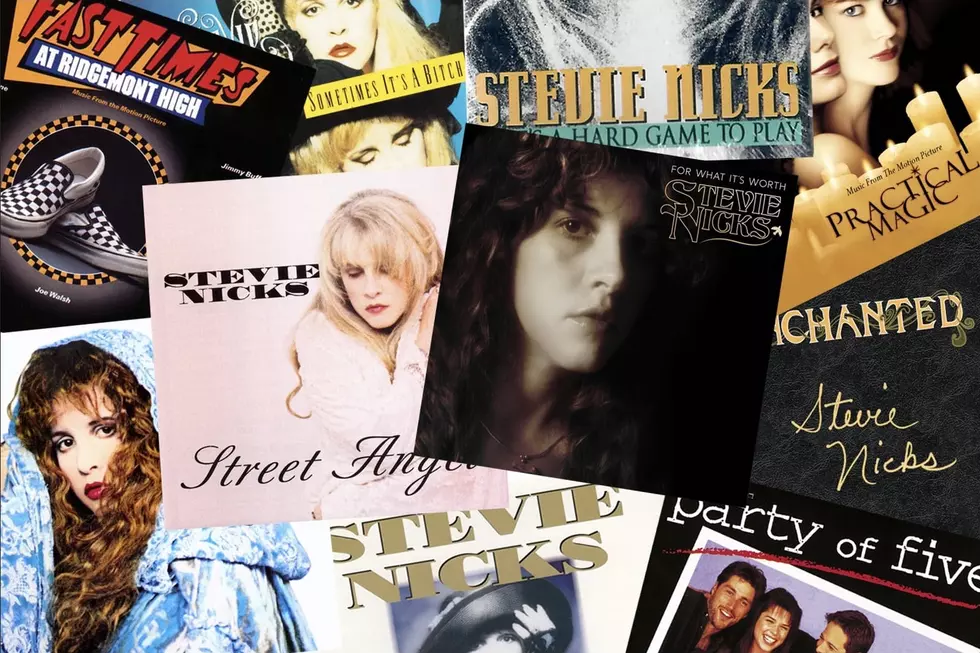 The Stories Behind 10 Rare Songs by Stevie Nicks
UCR
Stevie Nicks' two-time Rock & Roll Hall of Fame career is dotted with great albums. So, it's intriguing to think about how they might have been different with slightly altered track listings.
For instance, there were a total of 10 songs left off of her quadruple-platinum 1981 debut. That might have transformed Bella Donna into something entirely new.
Instead, Nicks revisited several of those early solo leftovers for 2014's 24 Karat Gold: Songs From the Vault. Others songs would find their way to subsequent Fleetwood Mac albums. Soundtracks and B-sides became home for some of the rest.
A new collection of her solo works, titled Complete Studio Albums and Rarities, puts all of this in perspective. The huge hits that made Nicks a star in her own right are featured, along with two discs of more obscure entries from her catalog.
In all, there are nearly two hours of non-album songs which previously had been pretty spread out. Here are the stories behind 10 key moments:
"Sleeping Angel"
From: Fast Times at Ridgemont High (1982)
"Sleeping Angel" is one of the best songs that Stevie Nicks ever put back on the shelf. Thankfully, the Bella Donna-era original wouldn't stay there very long, finding a home the following year on the Fast Times at Ridgemont High soundtrack. Nicks wrote "Sleeping Angel" about her one-time boyfriend, industry executive Paul Fishkin. They'd later co-found her record label, Modern Records, for the release of Bella Donna. "I remember listening to it and how great the vocals are that she did on that song," Fishkin told this writer in 2021. Of course, he knew it had been written about him – and Fishkin was grateful. "There's nothing greater than to know somebody would care about you enough to write a song about you."
"Sometimes It's a Bitch"
From: Timespace: The Best of Stevie Nicks (1991)
Nicks was skeptical about Jon Bon Jovi and especially the presence of the word "bitch" in the title of a song he brought to her. As time progressed, Nicks let her guard down and "Sometime's It's a Bitch" became one of three new songs on her Timespace collection. "I started to realize that Jon, without knowing it, had sort of taken a time machine back 18 years and watched my life," she wrote in the liner notes. He knew "there was no way he could know what I had lived through, without having lived through it with me – so he dreamed." Bon Jovi plays acoustic guitar on the track alongside his Bon Jovi bandmate Tico Torres and a number of Nicks' regular players.
"Inspiration" 
From: Street Angel Japanese bonus track (1994)
The Street Angel sessions were drawn out and complicated. Producer Glyn Johns was on board when Nicks began the project in 1992, and they completed a version of the album before parting ways when she was dissatisfied with the results. "After I listened to the record for two months, I decided that there were some things that were really missing for me," she later explained. "So I went back into the studio, much to everyone's complete surprise and did the things that I had wanted to do all along." "Inspiration" was one of two songs left off the final rundown that were written by Johns' son Ethan, who was soon to become an acclaimed producer in his own right. Both tracks surfaced as bonus material on the Japanese compact-disc edition of Street Angel.
"Reconsider Me" 
From: The Enchanted Works of Stevie Nicks (1998)
Jimmy Iovine initially recommended covering Warren Zevon's "Reconsider Me" to Nicks, and she recorded it in 1984 before scrapping the project. The song didn't surface until this 1998 box set. "I think Jimmy and I were fighting and for some reason, I wasn't in a very 'reconsider me' state of mind," Nicks recalled in the Enchantment liner notes. "I don't think Jimmy ever forgave me for not trusting his judgment." Calling it "better late than never," Nicks thanked Zevon for writing "Reconsider Me" while noting that her "Leather and Lace" duet partner Don Henley can be heard on harmony vocals.
"Love's a Hard Game to Play"
From: Timespace: The Best of Stevie Nicks (1991)
Recorded about two weeks before wrapping up Timespace, "Love's a Hard Game to Play" was written by Bret Michaels with a friend. Nicks called the Poison frontman "most extraordinary" in the Timespace liner notes: He possessed a combination of "beauty, sensitivity, warmth and a love for life that I had not seen in a long time." With that in mind, the last thing Nicks wanted to do was to let Michaels down: "I recorded his song, singing it for him to the best of my ability." Michaels plays 12-string guitar on "Love's a Hard Game to Play," while also singing with Nicks as the song nears its end.
"One More Big Time Rock and Roll Star"
From: B-side to "Talk to Me" (1985)
This outtake from the Rock a Little sessions initially appeared as a B-side to "Talk to Me." "One More Big Time Rock and Roll Star" deserved better than that fate. It's another example of how songs that Nicks left on the cutting room floor were often just as good or arguably better than the ones that made the album. The reported point of inspiration is signature Nicks: She received a gift of flowers that had a "delicate white ribbon card" with a message which read quite simply, "One more big time rock and roll star." Joe Walsh shares duties with longtime Nicks guitarist Waddy Wachtel. The track also features contributions from Little Feat's Bill Payne and bassist Kenny Edwards from Linda Ronstadt's band.
"Free Fallin'" 
From: Party of Five soundtrack (1996)
Nicks' regard for Tom Petty and the Heartbreakers is well-documented. She once again enlisted a familiar cast from the band in the mid-'90s to help with a cover of "Free Fallin'" for the teen television drama Party of Five. Guitarist Mike Campbell, bassist Howie Epstein and keyboardist Benmont Tench all chipped in. Original Mudcrutch member Randall Marsh also made for an intriguing special guest on drums.
"Crystal"
From: Practical Magic soundtrack (1998)
"Crystal" has a long lineage in the Nicks timeline, coming from one of the most coveted, yet obscure periods of her career. It's one of three tracks that she wrote for 1973's Buckingham Nicks album. Collaborator Lindsey Buckingham took the lead vocal on the initial version then they brought the song to a larger audience two years later on Fleetwood Mac, their first album with the group. Nicks finally took her own pass at the lead vocal on a fresh take for the soundtrack for the Practical Magic, a supernatural drama featuring Sandra Bullock and Nicole Kidman.
"Thousand Days"
From: B-side to "Blue Denim" (1994)
First demoed during sessions for the Rock a Little album, "Thousand Days" reemerged while Nicks was working on songs for Street Angel but ultimately ended up as a B-side. She revisits a frustrating night spent recording with Prince in Minneapolis while Fleetwood Mac was touring. It didn't end well, as Nicks ended up smoking her pot and then sleeping on the floor in his kitchen. She later lamented her "non-relationship with Prince. I like him, but we were just so different there was no possible meeting ground."
"For What It's Worth"
From: Single release (2022)
Released as stand-alone single, this update of Buffalo Springfield's "For What It's Worth" found Nicks working with producer Greg Kurstin of Foo Fighters and Paul McCartney fame. "It meant something to me then, and it means something to me now," Nicks said. "I always wanted to interpret it through the eyes of a woman – and it seems like today, in the times that we live in, that it has a lot to say." Ironically, Nicks had already written a separate song with Mike Campbell that was also titled "For What It's Worth," then issued the original on 2011's In Your Dreams.
Rock's Most Dysfunctional Bands
Oh sure, it's all fun and games at first. Then underlying issues start bubbling up.