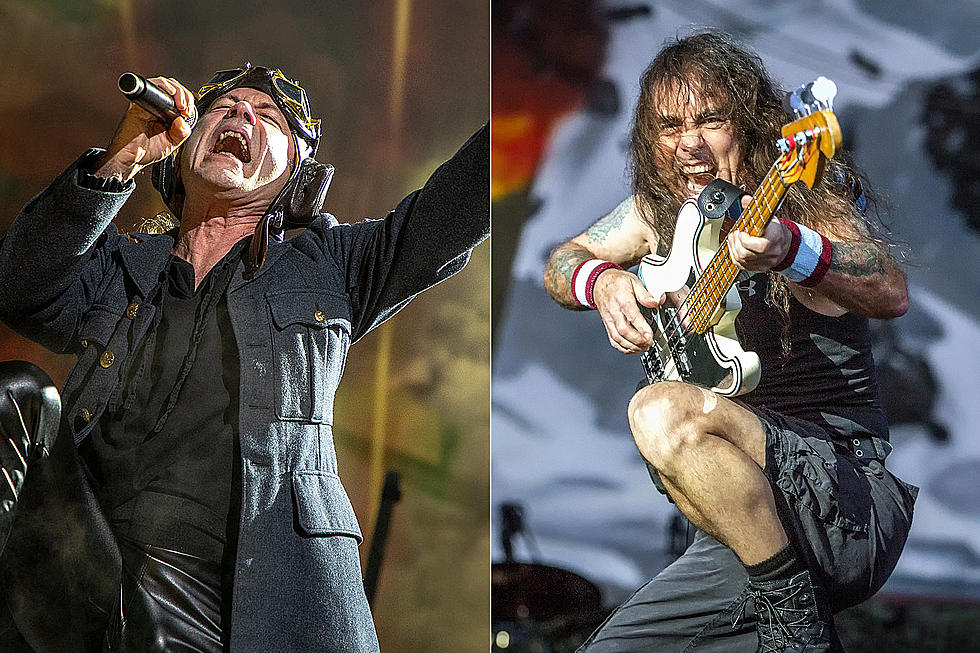 Watch Bruce Dickinson Belt 'Happy Birthday' Song for Steve Harris' 66th Birthday
Johnny Perilla, Loudwire / PYMCA, Universal Images Group/Getty Images
On March 12, Iron Maiden bassist and founder Steve Harris turned 66 years old and, at a spoken word tour stop in Las Vegas, Bruce Dickinson belted out the "Happy Birthday" song, joined by the crowd, in honor of his bandmate.
The moment was captured by a fan in attendance as Dickinson was in the midst of the question-and-answer portion of his spoken word show, which is a mix of storytelling followed by responding to pre-submitted queries from the crowd. Shuffling through the notecards, the singer read out loud, "Did you wish Steve Harris happy birthday? Did you remember to wish Steve a happy birthday today?"
It was a question posited by multiple fans and, in the spirit of celebration, Dickinson asked the crowd, "Shall we all sing happy birthday to Steve?"
Rallying everyone together from the stage, the singer loosely conducted the audience with exaggerated arm movements and the typically lifeless song got a significant boost as Dickinson reached into his upper register and put some real power behind the words. Thankfully, it helped to drown out the voice of the person who filmed the video — no offense, we just want to hear Bruce a bit better.
Watch the fan-shot clip below.
His voice sounds like it will be in fine shape after a couple years off due to the pandemic as Maiden are set to resume their Legacy of the Beast world tour later this year. See European dates here and, for the list of North American stops, head here. And to view the remaining dates on Dickinson's spoken word run, check this location.
Bruce Dickinson Sings Happy Birthday to Steve Harris
Iron Maiden's Eddie - A Look at Over 40 Years of Metal's Best Mascot
Iron Maiden's undead mascot Eddie, as seen on single and album art throughout the band's 40-plus year history.