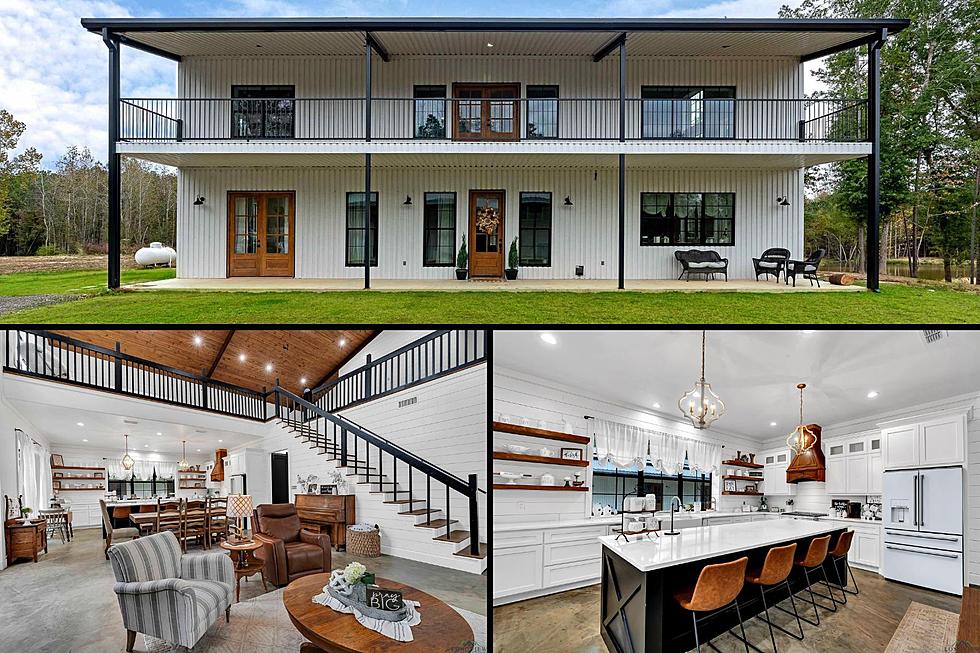 Gorgeous Barndominium on 70 Acres For Sale in Gladewater, Texas
Regina Echols via realtor.com
I've seen quite a few barndominiums before, but this one in Gladewater, Texas has to be one of the best-looking one's ever. The gorgeous bright white really pops out at you as you scroll through the real estate listing photos that are waiting for you below. And then when you add on the fact that this beautiful home is sitting on just shy of 70 acres of land, this is truly a dream property located in East Texas. 
The address for this incredible home is 9152 US Highway 271 S in Gladewater, TX 75647. The home comes with 4 bedrooms and 3 bathrooms and a total of 4,400 square feet. The home was built in 2020 and as mentioned above it's sitting on just shy of 70 acres, the real estate listing online says 69.99 acres. 
The Barndominium Home in Gladewater is Amazing
It's just as beautiful on the inside as it is on the outside. The home is luxurious but still very comfortable. The kitchen features an island bar, custom cabinets, quartz countertops and a gas range. The master suite has a nice walk-in closet, soaking tub and a shower.  
This Place Has Room For Your Toys Too
Beyond being a beautiful home this place in Gladewater also has a shop on the property which is 30x60. Inside the shop is a living quarters that is 30x20. It was also nice to read on the real estate listing that the if the buyer for this property was interested in buying more land it is available for the right price. The currently list price for this home is $1,100,000.  
Check out the photos of this gorgeous barndominium.  
Gorgeous Barndominium in Gladewater, Texas
This 4-bedroom 3-bathroom home on 70 acres is just what you need!
Beautiful Barndominium in Fredericksburg, TX
This barndominium is currently for sale, it was built in 2022 and sits on 20.02 acres of land