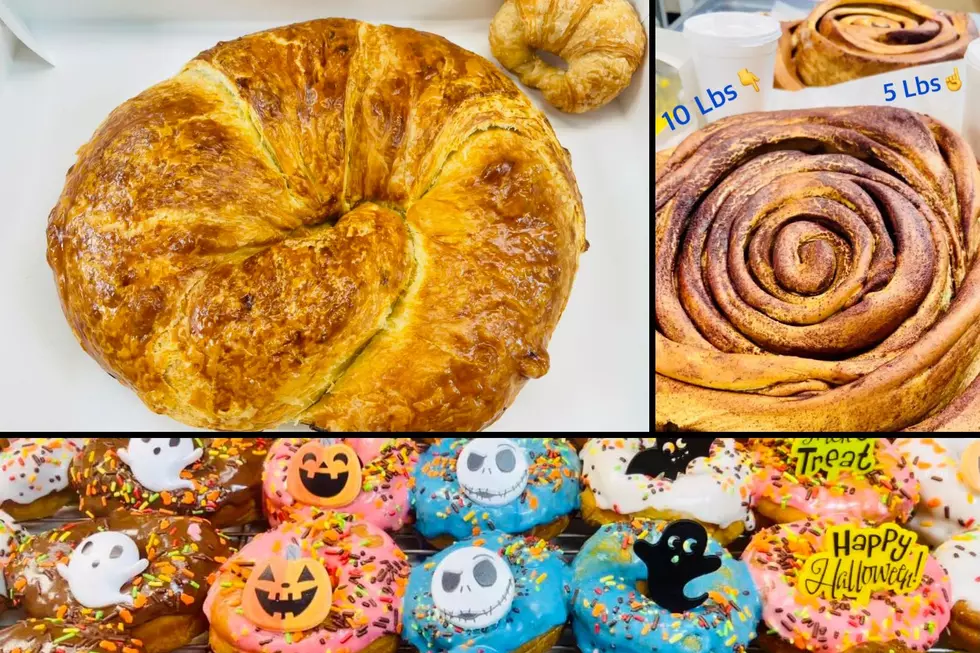 Could You Finish This 5 Pound Cinnamon Roll in League City, Texas?
Bonnie's Donuts via Facebook
It's not uncommon to hear about a Texan who drives for a few hours and then waits in line for their favorite food, you hear about this all the time with barbecue. But would you be willing to take the long drive to League City, Texas which is almost Houston for a large cinnamon roll. Okay, I take that back a gigantic cinnamon roll because that is what you will find at Bonnie's Donuts.
But it's not just cinnamon rolls they make enormous donuts and other sweet treats as well. But the most attention is given to their cinnamon rolls because you can order a 5 pound cinnamon roll and if you want to go even bigger than that they do offer a 10 pound cinnamon roll. Both of these enormous treats do require 24-hour notice and a deposit because as you would guess it takes lots of time and ingredients to create.
You Better LOVE Cinnamon Rolls to Order the Giant Ones
We are talking about one cinnamon roll that could feed a sports team or entire office, and the best part is that almost all comments online also speak to the quality not just size of treats that are made at Bonnie's Donuts. If you decide to make the trip to Bonnie's in League City the exact address is 2047 W Main Street A4 League City, TX 77573. Just make sure that you bring your appetite.
You Better Show Up to Bonnie's Donuts in League City, TX Early
On the weekdays Bonnie's Donuts closes at noon so don't sleep in if you plan on making the trip for the gigantic cinnamon rolls. They stay open until 1pm on weekends but the selection goes down the longer you wait to walk through the door.
Could you handle a 5 or even a 10 pound cinnamon roll?
Giant Cinnamon Rolls and Donuts at Bonnie's Donuts
They make 5 and 10 pound cinnamon rolls at Bonnie's Donuts in League City, TX.
5 Food Challenges Near Dallas, Texas
Here is a look at 5 delicious and difficult food challenges near Dallas, TX.
Best Italian Restaurants Near Longview, Texas
Here is a look at the 9 most recommended Italian food restaurants around the Longview, Texas area.