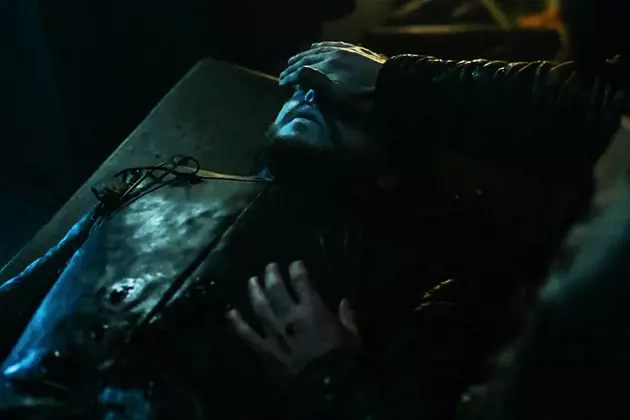 Dead or No, Jon Snow Back for Several 'Game of Thrones' Episodes, Says Kit Harington
HBO
Oh, Kit Harington, you unfortunate fellow. Oh, Jon Snow, you poor bastard. Harington's suffering is nearly at an end, that Game of Thrones Season 6's April 24 premiere will (hopefully) unveil the Jon Snow mystery we've spent so much time scrutinizing, and there may yet be a turn. Harington has admitted his return as a corpse, but new comments seemingly confirm the Game of Thrones star will feature into at least several Season 6 episodes.
Take this all with a grain of salt (or snow) for now, as it remains difficult to discern where cast and crew draw any lines between clever wordplay and outright lying, but poor, beset Harington seemingly offered a minor tidbit in conversation with The Jonathan Ross Show. Sure, the actor has confirmed shooting scenes as a corpse, the Season 6 trailer spotlighting as much, but precisely how much screentime could production require of a purportedly deceased character?
I was playing a corpse. I was [shooting in Belfast] for a little bit, I was there for about a month or two months, it was spread over a bit and I was playing a corpse.
Pressed to explain such a curiously prolific scheduling as might befit a corpse, Harington offered:
I won't tell you how many episodes I'm lying dead, but it's enough that I was out there for quite a while. It's going to be so satisfying when you see it and you realize that I was telling the truth the whole time.
We don't necessarily doubt that Jon Snow (and thereby mention of his fate from cast members) could be considered "dead," while the trailer seemed to indicate at least some significance to his lifeless body, but how much would Season 6 really need to spotlight a corpse, were the character not to play some key role? Even Charles Dance (and likely another former star) only spent an episode or so onscreen beyond their character's death.
We'll all find out for ourselves on April 24 (thanks, HBO) but what might Harington's words of his Game of Thrones Season 6 involvement truly mean? Check out the latest trailers below.