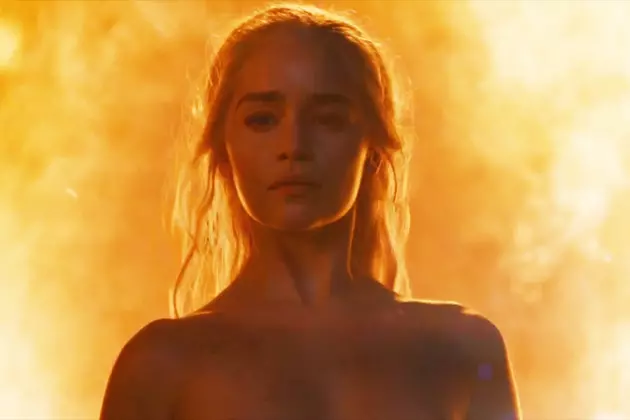 Emilia Clarke on 'Game of Thrones' Nude Scene: 'That Ain't No Body Double!'
HBO
While the more salacious Game of Thrones fans were understandably taken aback to see Daenerys staging another nude display of her fireproof power, Clarke seemed to cut Entertainment Weekly off at the pass to assure that the nudity was hers, rather than the notable CG body-doubling that saw Lena Headey completing Cersei's penance walk last year:
I'd like to remind people the last time I took my clothes off was season 3. That was awhile ago. It's now season 6. But this is all me, all proud, all strong. I'm just feeling genuinely happy I said 'Yes.' That ain't no body double!
It's difficult to be misquoted and it's nice to have something like Instagram to say the truth. How many times has [Daario actor] Michiel Huisman been asked about the fact he's taken his clothes off a bunch? Is that even a discussion? No. So I'm doing it this year and people can talk about it and I'm ready to answer any questions about it, basically.
Clarke's admirable embrace of the matter also follows another rumor persistently aimed at female Game of Thrones stars, in which Oona Chaplin mentioned an unnamed member of the cast stating "I want to be known for my acting, not my breasts." The actor in question was never conclusively identified, though many have erroneously attributed the quote to Clarke.
In a perfect world, we'd be able to get through a Game of Thrones season without some exacerbation of female nude scenes, but if a topless Mother of Dragons has to make headlines, better that Emilia Clarke chooses to create them herself.