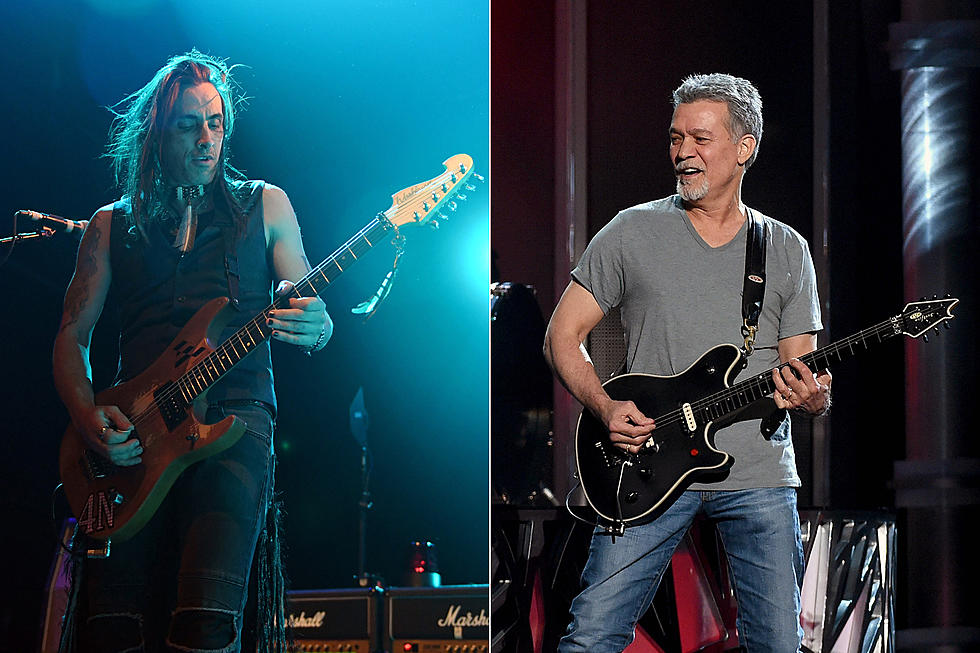 Extreme's Nuno Bettencourt Created 'Rise' Solo Same Day Eddie Van Halen Paid a Surprise Visit
Ethan Miller (2), Getty Images
Some things are just fated to be. That's the case for Extreme's Nuno Bettencourt, who reveals that the stars must've been aligned as Eddie Van Halen paid him a surprise visit the day he was creating the guitar solo for "Rise," a song that the guitarist has said owes a nod to Eddie's playing.
In coordination with the release of the first song and the Six album announce, Bettencourt was quoted as saying, "When Eddie Van Halen passed, it really hit me. I'm not going to be the one who will take the throne, but I felt some responsibility to keep guitar playing alive. So, you hear a lot of fire on the record."
Some of that "fire" comes from the song "Rise" that's the lead single, and Bettencourt recently revealed to SiriusXM Hair Nation host Tommy London (as heard below) that he had a surprise fateful meeting that occurred with the guitar great while putting the song together.
During the chat, Bettencourt revealed that he's notorious for shutting off the outside world while recording, and singer Gary Cherone kept texting him while he was trying to work on "Rise."
"Gary knows this. Everybody knows this about me from all the old records. Everybody goes home, leave me alone, don't walk in there. Don't ask me for a cup of coffee, don't ask me if I'm okay. And all of a sudden my phone's blown up," says the guitarist. "As a matter of fact, that was the first time Gary's called me in three years I think.... But he, all of a sudden, he's calling me again. I'm not answering. Then he starts texting me and I'm literally playing the solo of 'Rise' that is on that album right now on that song."
"He texts me again, I grab my phone, I'm like, 'Dude, leave me alone.' And he says, 'No, you gotta come down now to the front of the house. Somebody's here to see you.' And I'm like, 'No, I'm not coming. I'm recording a solo.' He's like, 'Come down now.' So I'm like, Jesus Christ. Like Gary's never like, reacted like [that], what's happening?," he continues.
"I get down, I open the door and I'm about to yell at him and it's Edward. Edward's out there. Yes. And this was just not too long ago. This is around 2019 when we were finishing up the album and um, and all of a sudden I'm like, 'Okay, that's a good reason.'"
The two guitar greats then chatted for a period, with Eddie sharing with Nuno the band's plan to do the "kitchen sink" tour that had been discussed bringing Michael Anthony back to the group and sharing with Nuno some of the work that Wolfgang Van Halen had been doing on his Mammoth WVH solo album.
"And then he is like, 'Well what about the new album? Gary told me it's a pretty sick album.' And then he goes, 'I gotta hear it.' And I'm like, the Virgo in me, and the idiot is like, 'No, I gotta, it's almost there, but I wanna play it for you.' And I'm regretting now for obvious reasons instead of having [him] come up and listen to whatever the 'Rise' solo was then, because it was very inspired by him as always. He goes, 'All right, I'll come back, let me know when it's done. We'll come back. Gary. Take care.'"
Van Halen left with a big hug, but sadly never made it back to hear the new album or the "Rise" solo.
Extreme, "Rise"
READ MORE: Extreme Guitarist Nuno Bettencourt Rocks Super Bowl With Rihanna
Within the chat, Bettencourt also remembered one hilarious fan moment from that day as well, as someone spotted he and Eddie at the doorway of Nuno's home and decided to stop their car to pay respect.
"This car came speeding around where I live up in the Hollywood Hills the roads are kind of very narrow. This car comes flying around the corner, there's no sidewalks. And this guy all of a sudden passes us and going around the corner, skids turns the wheel, skids stops the car, the car's still running and gets out of the car and runs over and sees me and Edward. And he just bows down," recalled Nuno. "He literally gets on his knees and he's like this. And he's bowing. I'm sure it was for Edward, not me, but like, he probably thought he was seeing things. And he's just like, 'What has happened?' He goes, 'Hey Edward, hey, Nuno.' And then he got in his car and he left. Didn't ask for a photo, didn't ask for an autograph, just wanted to come out and just acknowledge that he was seeing what he was seeing."
Check out more of the discussion below and be sure to check out SiriusXM's Hair Nation via the SiriusXM app.
Extreme's Nuno Bettencourt Recalls Fateful Meeting With Eddie Van Halen the Day He Recorded 'Rise' Solo
91 Rock + Metal Acts With Two or More Top 40 Songs
These songs rocked, then rolled over into the mainstream.