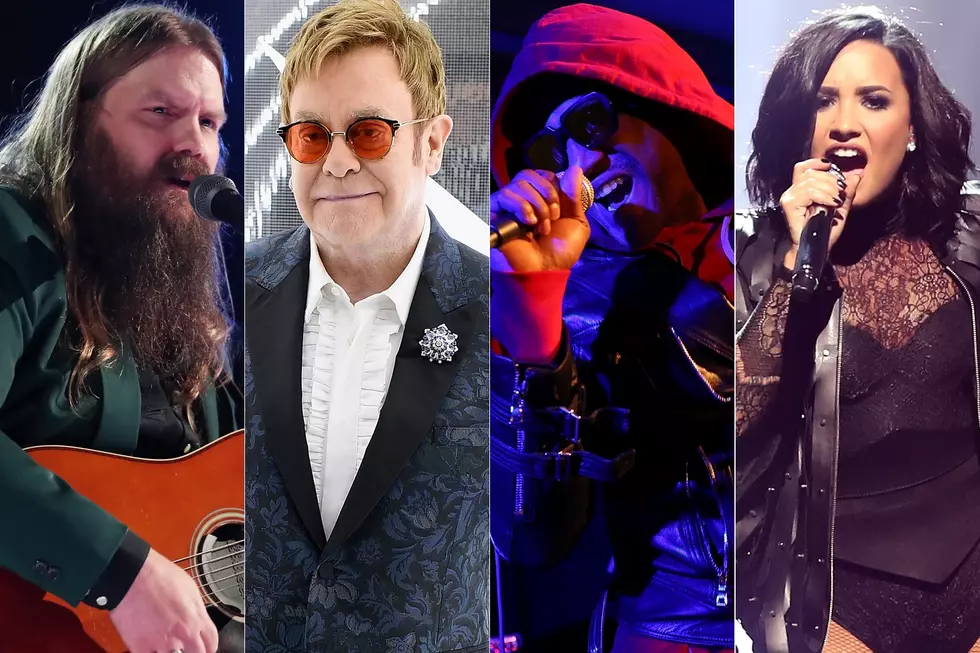 Listen to Elton John Classics Covered by Chris Stapleton, Q-Tip and Demi Lovato
Christopher Polk / Dimitrios Kambouris / Jesse Grant / Mike Lawrie, Getty Images
Elton John and his longtime songwriting partner Bernie Taupin are getting the tribute treatment with a pair of upcoming albums that find pop and country artists covering classic cuts from their catalog — and fans can sample a song from each set right now.
As previously reported, both tribute albums are due out April 6, and they're divided along genre lines; Revamp focuses on pop artists offering their takes on John's songs, while Restoration draws on country stars' renditions. Understandably, both John and Taupin have expressed gratitude for this uniquely expansive approach. "As songwriters, Bernie and myself are thrilled when singers we admire and respect as much as those on Revamp & Restoration choose to add their own unique twist in the process," said John in a press release. "It means that our music is still relevant and ultimately that our songs continue to reach new audiences. We're humbled and thank them all for their generosity."
The first Revamp track to see release is "Don't Go Breaking My Heart." Originally a hit duet for John and Kiki Dee, it's redone here as a collaboration between Q-Tip and Demi Lovato. "Elton's influence shows you that the possibilities of music are endless. He's astute in so many types of music, he does it all and being a hip-hop kid, our whole aesthetic was that everything was up for grabs and that's how he has always been to me," said Q-Tip. "Rhythmically, we just wanted to make it a little funkier."
"'Don't Go Breaking My Heart' is such a classic," added Lovato. "It's just always been around me — I couldn't pass up the opportunity to work on this. Elton's such an icon, a legend, I'm honored to be a part of Revamp. He's a trailblazer and he's authentic and true to himself. This version of the song has a more soulful edge — Q-Tip did a great job."
Watch Q-Tip and Demi Lovato's 'Don't Go Breaking My Heart' Video
Restoration, meanwhile, offers up Chris Stapleton's take on "I Want Love" — a more recent ballad that became a Grammy-nominated hit off John's 2001 Songs From the West Coast LP. Stapleton alluded to John's impressively lengthy chart run in his comment on the song, saying, "At any stage of life you can pick out a moment and a place in time, things that were going on and there's an Elton John song playing somewhere in the background. He's always going to be present in every musician's mind and mine as well because his music reaches that far."
Listen to Chris Stapleton's 'I Want Love'