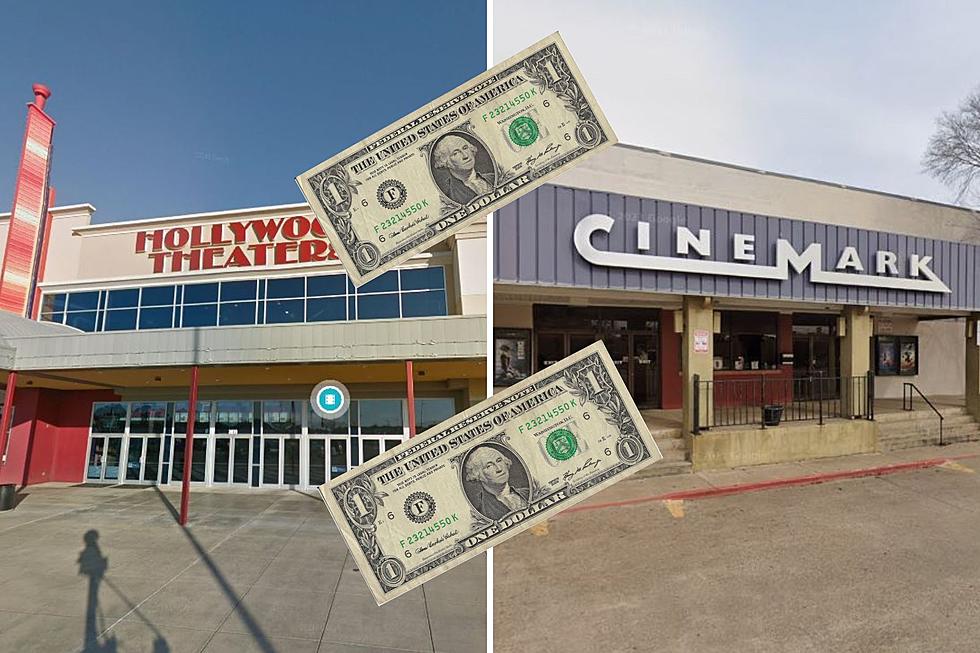 East Texas Theatres Where You Can Watch Summer Movies For $2 Or Less
Canva
In An Effort To Get Folks Out Of The House And Back Into Movie Theatres, A Couple Of Theatre Chains Announced Special Summer Ticket Pricing.
Everybody is streaming at home right now. Let's face it, its easier than paying more than $20 to see a first-run movie when you can wait a few months and see it at home for way less money.
Movie theatres are aware of this "problem" and yesterday, 2 big movie chains announced plans to make it very affordable especially for kids, to come back to the movies and away from their devices.
Regal Theatres Summer Movie Express
Regal Cinemas Summer Movie Express is already underway every Tuesday and Wednesday where select Regal locations will offer $2 tickets for the first show of the day with a lineup of family movies.
The program runs through Sept. 6, but some theaters will only participate in the nine weeks that align with the local school system's summer break schedule.
According to the Regal website only one East Texas theatre will be participating:
The Regal Longview Theatre (formerly known as "Hollywood Theatres") located at 3070 N. Eastman Road is participating in the program and here's the movies in their lineup this summer which begins on May 30th:
Tue. May 30 to Wed. May 31: The Croods: A New Age & Shrek Forever After
---
Tue. Jun 06 to Wed. Jun 07: Puss in Boots & Captain Underpants: The First Epic Movie
---
Tue. Jun 13 to Wed. Jun 14: Sing & The SpongeBob Movie: Sponge Out of Water
Tue. Jun 27 to Wed. Jun 28: Sonic the Hedgehog & Dora and the Lost City of Gold
Tue. Jul 04 to Wed. Jul 05: Puss in Boots: The Last Wish & Clifford the Big Red Dog
Tue. Jul 11 to Wed. Jul 12: Sonic the Hedgehog 2 & The Paw Patrol
---
Tue. Jul 18 to Wed. Jul 19: The Bad Guys & Playing with Fire
---
Tue. Jul 25 to Wed. Jul 26: Paws of Fury: The Legend of Hank & Sing 2
---
August 1 & 2 The Boss Baby: Family Business & Dolittle
---
August 8 & 9: Kung Fu Panda 3 & Curious George
Cinemark Theatres will host Summer Movie Clubhouse
Cinemark movies announced that participating theatres will have a special ticket price on Wednesdays at 9:30 a.m. for just $1.50. The discounted movies start the week of June 19 and run each week through August 10.
Cinemark has 317 theaters and 4,391 screens in 42 states with its nearest location in Athens at Cinemark 4.
We contacted Cinemark in Athens to confirm if they are participating but at the time of the writing of this article we could not confirm if they are.
June 21: Minions: The Rise of Gru
June 28: Sonic The Hedgehog
July 5: Mummies
July 12: The Bad Guys
July 19: Paws of Fury: The Legend of Hank
July 26: DC League of Super-Pets
Aug. 2: Lyle, Lyle Crocodile
Aug. 9: Puss in Boots: The Last Wish
Live Like A Pirate Inside This Texas Home For Sale
Themed after a popular Disney movie (we'll let you guess which one), this home just hit the market in Plano for $650K.
42 People Were Recently Arrested In Gregg County On At Least One Felony Charge
Gregg County law enforcement booked the following individuals into the Gregg County Jail prior to May 25, 2023. All individuals are considered innocent until proven guilty in a court of law. Others that are featured may have been detained on a US Marshall or immigration detainer. or are a wanted fugitive.
12 Dogs That Must Be Adopted ASAP in Tyler, Texas
These dogs don't have long if they aren't adopted soon. Please contact the Smith County Animal Control and Shelter at 903-266-4303