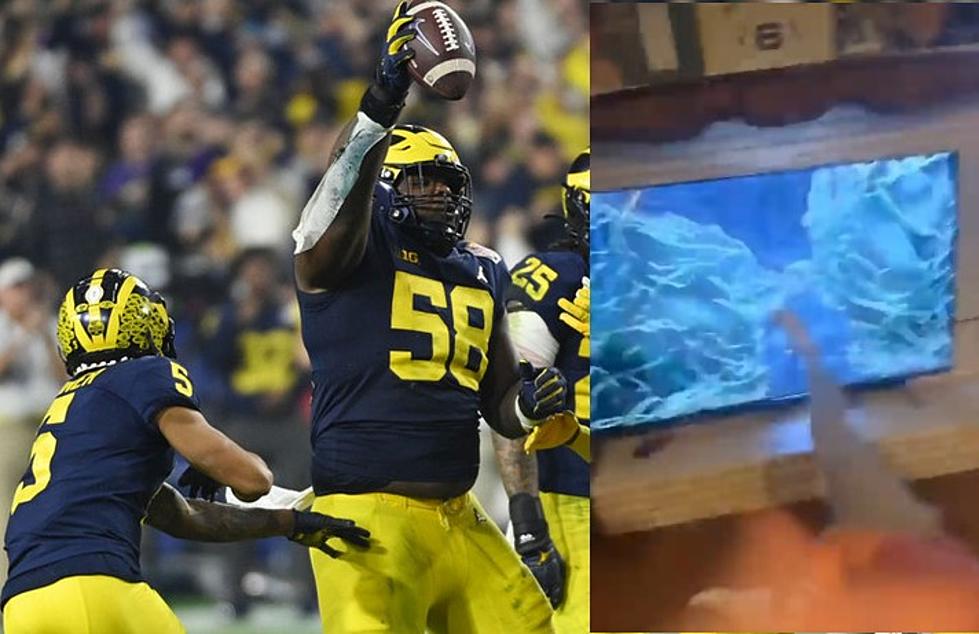 Dallas Cowboys Fan Destroys TV After First Round Pick Announcement
Twitter/Getty Images
Let me see, it's April and Dallas Cowboys fans are already losing it. Looks like it's gonna be another long season of anger if this keeps up.
Listen, I love the Dallas Cowboys as much as anything in the world. However, I do not get worked up about the NFL draft. You have NO IDEA if these college athletes are going to handle themselves in the NFL. How many times have we heard, "This guys a sure thing". Then they can't even make it more than three seasons in the league. It happens all the time.
Fan Reaction to the Dallas Cowboys Pick
Last night at The Star in Frisco, the big draft watch party took place and when the pick was announced. Nobody cared...I see maybe three people clapping, the rest looked confused. Cowboys have said they're taking best available player and not looking at filling a role they need. Someone in the office thought this Defensive Tackle out of Michigan was the best with this pick and as always we will wait to see to find out. However, some Dallas Cowboys fans lost it last night.
Cowboys Fan LITERALLY Boxed His TV Last Night
Looks like this guy was prepared for this moment, the boxing gloves were on ready to go if he didn't like the pick. I am assuming his roommates there attempted to stop the needless destruction, but this guy had one goal in mind.
By the way, kick ass Joe Camel clock above the TV boys. That thing is probably worth some money.
What Does the Dallas Cowboys Infamous 'White House' Look Like Today?
Back in the mid 90's during the Dallas Cowboys Super Bowl Dynasty, several members of the team went and partied at a house not too far away from the Dallas Cowboys practice facility. The home is located in a suburban neighborhood in Irving, Texas. The stories of sex and drugs are legends at this point. So, what does the house look like today? Check it out below.
History of the Dallas Cowboys Thanksgiving Performers
From 1997 to now, we go through every performer the Dallas Cowboys have had since 1997.