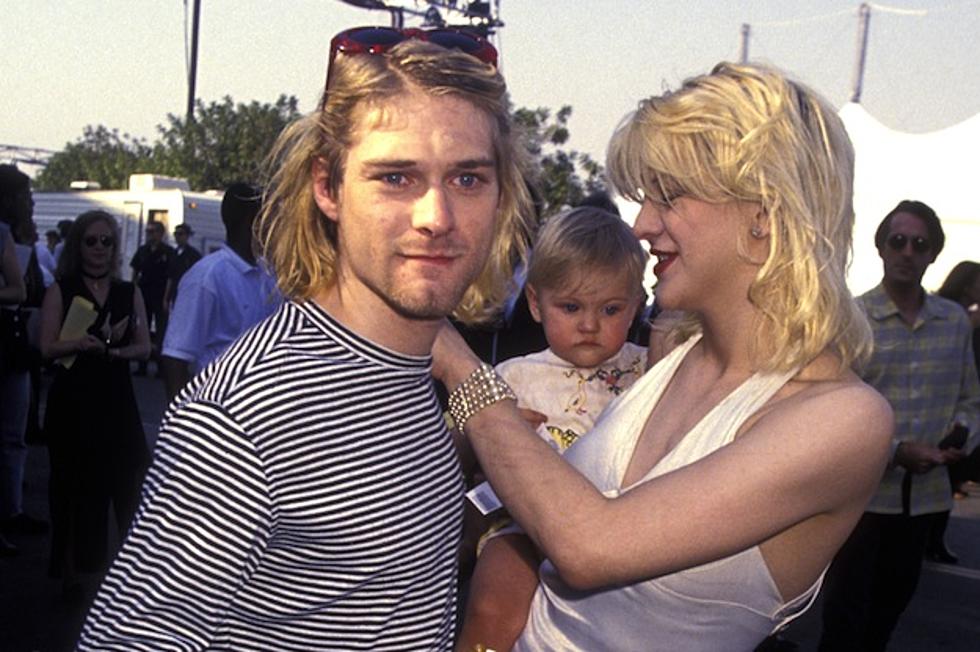 Courtney Love on Relationships After Kurt Cobain: 'He's a Hard Act to Follow'
Ron Galella Archive, Wire Image, Getty Images
The documentary Kurt Cobain: Montage of Heck airs on HBO May 4, and Courtney Love agreed to be interviewed by the film's director Brett Morgen for the summer issue of V Magazine. Morgen and Love talked about some of the memories that resurfaced for her after seeing the film, why she wanted to make the documentary and what it was like for her daughter Francis Bean to serve as executive producer.
Love said the film triggered memories of the intense intimacy she shared with Cobain. "It f--ked me up. I remembered the sexual relationship, which, as you know, is the core of any good marriage. It almost rendered other intimacies meaningless," she told Morgen.
It also made her reevaluate the relationships she has had since Cobain. "I remembered how much I love him, and it made me really think about a few other people I don't want to name, but a few other people I've been in love with. And should I have married them? The answer is actually no," stated Love. "Nobody else was as funny. Nobody was as compatible and got my jokes. And you can see it in the film."
She went on to say, "He is considered to be the rock star who didn't want fame, the weak pathetic guy who was taken over by this controlling female, and yadda yadda. It kind of f--ked me up, and to be honest with you, I don't have a boyfriend right now, so I'm single. [The film] made me really evaluate what, at the age of 50, I want out of a relationship. He's a hard act to follow. I love him and I always will."
As for why she felt it was the right time for the documentary to be made, Love said, "There's been Charlie's book [Heavier Than Heaven by Charles R. Cross], which he spent nine years researching and it has a lot of facts in it. Like, I didn't know that Kurt had played football. Stuff I didn't even know. And that's great, but in terms of something people could experience on a more visceral level than a book, I wanted there to be a film. No one knew Kurt was funny. And that's ridiculous. He was ridiculously funny."
As for Love stepping aside to let her daughter Francis Bean take the reigns as executive producer, the rocker said, " I think Frances did a really good job of being there for her dad and being involved in what is part of the family business, which is keeping up Kurt's legacy. I'm really proud of her. Unfortunately, that's part of what she and I have to do. We go through a process of doing projects and stuff—and it's not that unfortunate. It's ethically correct."
You can read the full interview over on V Magazine here. Kurt Cobain: Montage of Heck airs on HBO May 4.
10 Unforgettable Courtney Love Moments