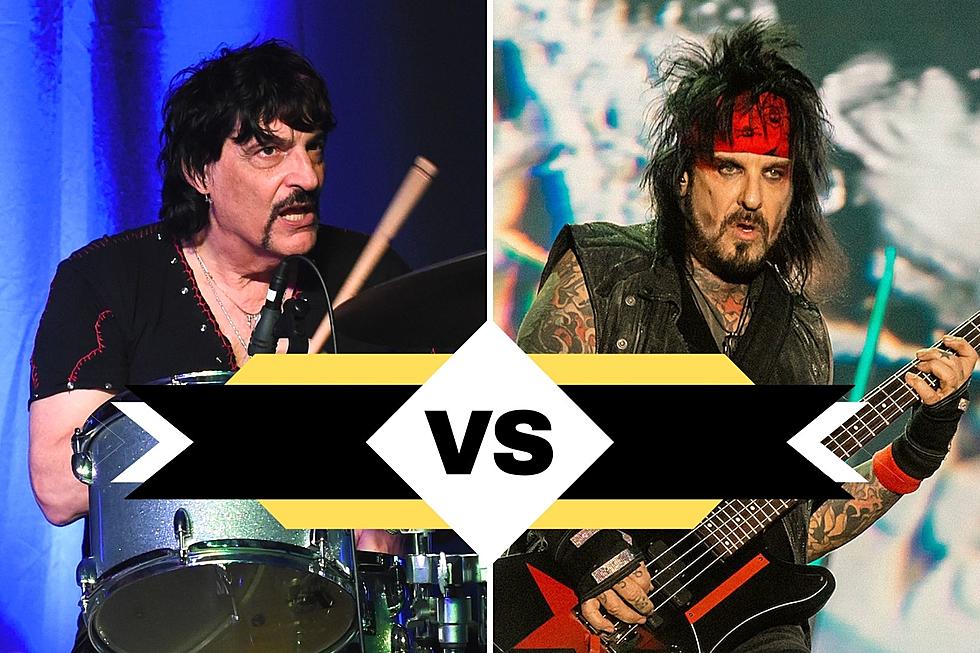 Carmine Appice Challenges Nikki Sixx to Jam-Off After Beefing on Twitter
Rick Diamond, Getty Images / Medios y Media, Getty Images / Canva
Drummer Carmine Appice (Vanilla Fudge, Cactus, Blue Murder, Rod Stewart and more) has issued a challenge to Motley Crue bassist Nikki Sixx, looking to throw down in a jam-off after some recent beef between both parties.
"I want to respond to Nikki Sixx's comments about me being a 'washed-up drummer.' I want to challenge him to a jam off to see who the better musician on their respective instrument is," Appice told Ultimate Guitar, noting, "Since your article in Ultimate Guitar started this whole brew-ha-ha, I felt we should give this statement to you and let you run with it."
How did the beef start?
Well, as Appice mentioned, it began in an exclusive interview with Ultimate Guitar where Appice was asked for his thoughts on his good friend Mick Mars' retirement from Motley Crue late last year as the band turned to John 5 to fill the vacancy.
The drummer relayed that Mars had told him he was not happy on last year's Stadium Tour, alleging Crue were heavily utilizing backing tracks — "basically, everything was on tape," Appice said in mid-March.
"The truth is that everything has been weird for a while with Motley Crue, and Mick didn't like that everything was on tape. Mick told me that people that came to see it could tell that it was all pre-recorded and that everything was on tape," he continued, "When you play in a stadium like that, you can hear a lot of things come to the monitors or what doesn't. And with Vince's vocals, bass, drums, guitars, and all the other stuff, it was obvious that it was all on tape. And Mick was pissed off and said, 'I can play these things. I want to play them. I don't want to make believe I'm playing them.' So, I think that's one of the reasons why he said, 'I'm done.'"
Appice also made special mention that Mars' ankylosing spondylitis he has been afflicted with for decades "doesn't help" matters either.
READ MORE: Motley Crue's Nikki Sixx Makes an Argument for Outlawing Alcohol
How did Sixx respond?
Once Carmine's comments traveled, they made their way to Sixx, who wasn't not at all happy with what was said.
"Love how people talk FOR us without talking TO us. This is why the media has lost credibility," Sixx began on Twitter, taking one of his typical shots at news media, inferring that Ultimate Guitar never reached out for comment on Appice's claims.
It's worth noting that last summer, when video surfaced showing Crue using a drum backing track as Tommy Lee missed a cymbal count-in, Loudwire was told by Motley Crue's representatives that the band was not fielding media requests when a comment on the matter was sought.
"Obviously by printing BS they made money off of advertising and we're not into that clickbait game," Sixx's tweet and attack of news media continued.
"When the truth comes out it will be FROM us," he wrapped up, never having outright denied what Appice said. The band has not further commented on what the "truth" is regarding these allegations either.
Replying to a Twitter user who said, "The media just lie. I'm sick of it," Sixx took aim at Appice's status as a musician.
Sixx, whose band initially promised they would never reunite after a farewell tour that ended in 2015, responded, "A washed up drummer trying to speak for us? And bottom feeder media running with it to make money off of lies?"
He continued, "Welcome to the sad new world of LOOK AT ME LOOK AT ME. Up next for us, a stadium tour in Europe, Australia, Japan etc.," bragging about Crue's ongoing activities compared to Appice's.
What did Appice say back?
Leaning on his musical chops, Appice tweeted back, "At least this washed up drummer can play his instrument well who has pioneered heavy rock drumming and can educate others around the world on his instrument!!!"
Rallying in his corner, keyboardist Derek Sherinian (Sons of Apollo, ex-Dream Theater, ex-Alice Cooper) commented, "Carmine you are an American Treasure and we all love you!!!"
Ratt singer Stephen Pearcy also backed him up, sharing, "You got that brother @carminceappice1, that was uncalled for and I'd be the first to say it like it is." He directed a series of hashtags at Sixx as well — #lowblow, #respect, #legend and others.
At the time of publication (10:30AM ET, April 3, 2023), Sixx has not yet responded to Appice's jam-off challenge.
If it ever does happen, it'll have to take place when Motley Crue aren't on tour. See all of their upcoming dates with Def Leppard at this location and for tickets, head here.
Bands Who Have Admitted to Using Backing Tracks
These musicians say backing tracks help them put on the best show they can and have no shame in confessing it.
25 Nastiest Rock Feuds