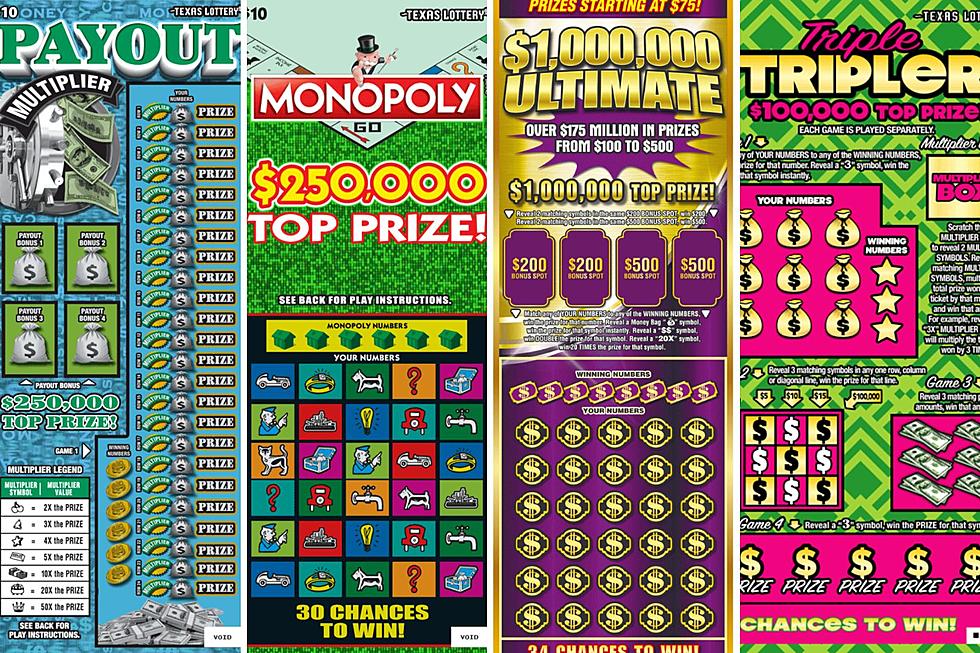 Big Money: Texas Lottery Scratch-Offs With The Most Big Jackpots Left
Canva/Texas Lottery
If You're On The Hunt For The BIG MONEY In Texas, Then You Need To Look For These Texas Lottery Scratch-offs In Austin, Dallas or El Paso!
I tend to get annoyed when I'm at the gas station and you have to wait for folks to "figure out" which Texas Lottery scratch-off they want to buy. We all know you're just "guessing" at which one could be a winner and that's cool but can yall speed up the process?
Well, that's the intention behind this article. In an effort to help you choose your next "scratch-off winner" we dug into the Texas Lottery's website and found the games that are about to be CLOSED but still have UNCLAIMED top prize money out there.
Literally, MILLIONS of Dollars Are still Floating Around.
If you're wanting to give yourself the best shots of scratching off the big payoffs, its only logical that you choose the games that have the most top prizes still available. So below, you'll find a list of the Texas Lottery Scratch-Offs with BIG MONEY JACKPOTS still available to win as of September 6th. They range from $100,000 to $1,000,000 and many of them are getting ready to close in September and October which means these tickets will no longer be on sale .
These Texas Lottery Scratch-Offs Still Have Big Jackpots Available
Many of these games end in September and that money will disappear forever so you need to be on the lookout for these scratch-offs when you're in the store.
40 Photos Of The 5th Largest Ranch In Texas For Sale
The Brewster Ranch is about half the size of RHODE ISLAND sitting on 424,000 contiguous acres and it could be yours for a little bit over $250 MILLION dollars!
UPDATE: Texas' Top 10 Most Expensive High School Football Stadiums in '23
There's a reason every good high school football movie is based in Texas. Here in the Lone Star State Friday nights are revered and our young men in football pads exalted to legends in their hometowns.