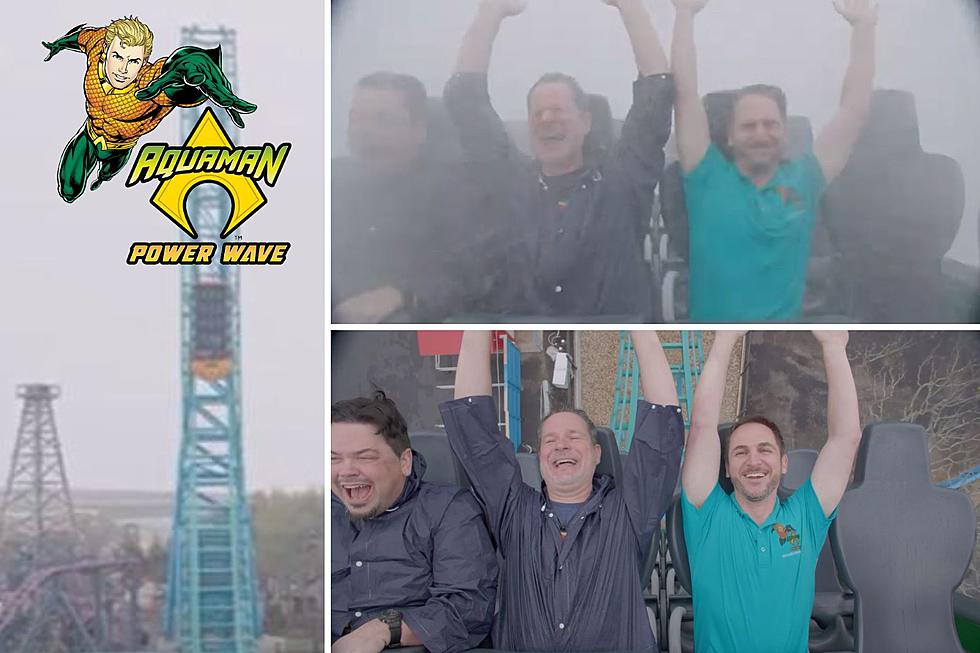 AQUAMAN: Power Wave At Six Flags Over Texas Is A Soaker & Thriller
Six Flags Over Texas
AQUAMAN: Power Wave at Six Flags Over Texas in Arlington, Texas is one intense water coaster! It is the first of its kind in North America. It has power, height, air time, and a drench factor like no other!
Brave the wave!
Officially opening Saturday, March 11th, 2023, AQUAMAN: Power Wave becomes the park's 14th roller coaster. This unique coaster isn't like your traditional coaster, this coaster will launch boats filled with 20 passengers back and forth between two identical 150-foot towers. At the apex of the ride, riders are staring down at a 90-degree angle before plunging into a pool of water at speeds of more than 60 miles per hour!
It has been a long time coming, but we are now ready to introduce an epic new water coaster to our guests at Six Flags Over Texas" (Six Flags Over Texas Park President Richard Douaihy)
What about air time?
For those of you that want to experience the feeling of negative G-forces or being frictionless like you're floating out of your seat, also known as airtime, AQUAMAN: Power Wave will deliver that feeling just like its big brother roller coasters do at Six Flags. I experienced this feeling for myself while taking a ride on this massive towering ride at Six Flags Over Texas during media day.
It was fitting that the morning we rode this new ride it was damp, foggy, and cool. What a rush it was too. Feeling the power of first being launched backward across the splash pool to the 150-foot tower behind us. Then freefalling into the launch motors that sent us charging and sailing up the opposing 150-foot tower. Then feeling that airtime or sense of floating as we went freefalling again back across the pool as the launch motors sent us back up the other tower!
At this point we're looking straight down at the water we're about to splash into and splash we did. You DEFINITELY get wet on AQUAMAN: Power Wave as your hitting the splash pool going about 63 miles per hour. The speed is deceiving too. It may not look like the boat is traveling that fast, but you will feel it when the boat passes over those launch motors!
AQUAMAN: Power Wave is another first for Six Flags Over Texas.
Six Flags Over Texas isn't a stranger when it comes to introducing new ride experiences to guests throughout the park's 62-year history. The Runaway Mine Train was the first mine car style coaster that opened in 1966 and it's still in operation today.
Then in 1978, Six Flags debuted Shock Wave, a quad-tube steel coaster that features two consecutive loops back to back. At the time of opening, it was the world's tallest roller coaster.
In 1990, Six Flags opened The Texas Giant, the world's tallest wooden roller coaster and it ranked as one of the best in the nation for nearly two decades until it was retrofitted with steel tracks while retaining its wooden footprint and was renamed New Texas Giant.
And now, AQUAMAN: Power Wave in 2023!
This is just the latest in firsts coming from The Thrill Capital Of Texas, Six Flags Over Texas.
Newest Coaster At Six Flags Over Texas, AQUAMAN: Power Wave
Six Flags Over Texas will open their 14th roller coaster March 11, 2023. This will be a launch-style first-of-its-kind water coaster
KID FLASH Cosmic Coaster At Six Flags Fiesta Texas
Opening Summer 2023 will be a first-of-its-kind single rail family racing coaster at Six Flags Fiesta Texas in San Antonio. This roller coaster is geared towards younger guests that are at least 36' tall.
Six Flags Over Texas Mourns The Loss Of Former Favorite Park Rides
Six Flags Over Texas wrapped up a huge celebration in August as it celebrated its 60th anniversary. During the 60 year history of Six Flags, there has been a handful of memorable rides, attractions and shows that have had to be retired and removed from the park for various different reasons. Here's a look back at them as they were displayed for the parks' 'Fright Fest' event.