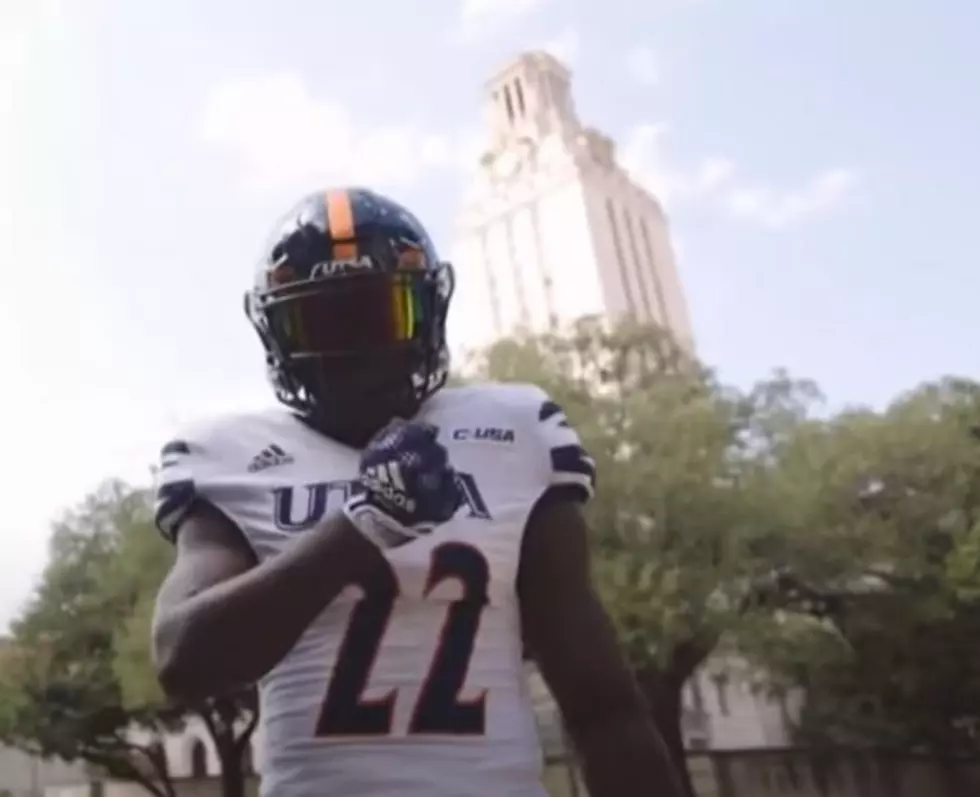 All The Smoke: UTSA Shoots Hype Video On Texas Longhorns Austin Campus
KENS 5 YouTube
College Football rivalries in Texas are well known even though thanks to "conference shifting" the in-state rivalries have lost some of its luster over recent years. If you remember the old SWC days, then you remember the in-state wars between Texas, Baylor, SMU, Texas Tech, A&M, Rice, Houston and TCU. While you still have a few hanging on, most of these teams don't meet anymore, but there could be a NEW rivalry on the way soon.
Texas Will Meet UTSA For The First Time Ever This Saturday.
There's a lot of excitement around UTSA Roadrunners football. The team is lead by former Gilmer High coach Jeff Traylor who was named C-USA Coach of The Year after taking his squad to a bowl game last year. At one point last season, the Roadrunners were called the "best college team in Texas" by some observers and their rise in recent years can't be ignored or denied.
 But They Have Drawn The Ire Of Longhorn Fans Everywhere With A New Video.
According to KSAT, the UTSA football department on Thursday released a uniform hype video with a not-so-subtle message prior to their first-ever game against the No. 21 Texas Longhorns. Shot on the UT-Austin campus, the video, titled "Game 3 Uniform Combo" featured video footage shot around Austin, including some just outside the capitol, in front of the UT Tower and even outside Darrell K Royal-Texas Memorial Stadium.
Check Out The Video From Their Twitter Account Below.
As a football fan without a rooting interest on either side, I LOVE that UTSA is asking for all the smoke as the kids say nowadays. I'm super intrigued to check out this matchup but I gotta see if I even have "The Longhorn Network"....‍♂️
Top 10: These Are Texas' Most Expensive High School Football Stadiums in '22
There's a reason every good high school football movie is based in Texas. Here in the Lone Star State Friday nights are revered and our young men in football pads exalted to legends in their hometowns. In fact as of last year, Texas is only second to Florida (by two players) as the state with the most players in the NFL.
Is This Beautiful Hill Country Estate Perfect for BBQ & Football with the Boys?
It's finally September, fall is kinda in the air, high school football is back, college too, and the NFL is coming up hot. Anyone else think this Hill Country estate located just outside of Austin, TX, looks like the perfect place for BBQs and football with the boys?
Look: Watch Your Team At These Top 6 Biggest Football Stadiums in Texas