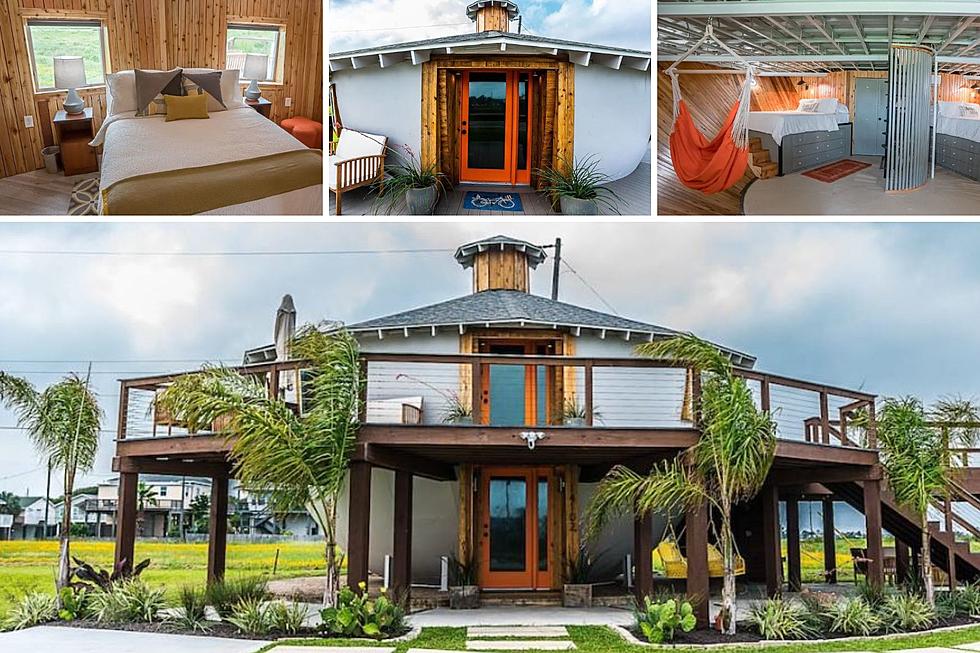 A Unique Galveston Airbnb Is Shaped Like A Gigantic Deep Cereal Bowl
Airbnb
While looking through the 'OMG!' section on Airbnb this morning there was a property that I IMMEDIATELY recognized. I recognized it because I have passed by it several times while visiting my sister-in-law's house in Jamaica Beach, Texas. On our way to her house, we'll pass right by this place while driving along FM 3005/Seawall Blvd. in Galveston, Texas. This place reminds me of a giant cereal bowl and when I see it, it means we're almost to her house.
Although I call it the cereal bowl house, its official name on Airbnb is 'Kettle House'. I've wondered if someone lived it in and what it looked like on the inside and now I know! At one point it was run down but this place has been renovated and is available as a rental. The decor inside is unique because of the shape of the home.
The listing says the home was built in 1960 and recently renovated and was originally built as a steel storage tank. This gigantic kettle has all the modern conveniences with it and is a short walk or golf cart ride across FM 3005 to the Texas Gulf Coast and was featured on the HGTV DIY show 'Big Texas Fix'!
Spring Break and Summer Are Coming - Book It Now
This unique close to beach home isn't a huge place, it's two bedrooms and one bath that sleeps six but would be perfect for a family getaway to the beach. The kids can sleep downstairs in the bottom of the bowl on beds or in hammocks.
Curved walls are the unique feature of this Texas Gulf Coast Airbnb
I finally get a view inside this property that I've passed by several times and admired. It looks like you'll have to get used to walls that lean outward, especially on the ground level because it's shaped like a bowl, uh excuse me, a kettle, and hope it doesn't mess with your equilibrium! Along with the uniqueness of this home, there could be some challenges for some - like a tight spiral staircase inside, but you can get to the second level and deck area through the external staircase though.
Time to plan a trip to Galveston and the Texas Gulf Coast.
A Unique Galveston Airbnb Is Shaped Like A Gigantic Deep Cereal Bowl
I've seen this Galveston, Texas home from the outside several times and I've nicknamed it the 'Cereal Bowl House' as I pass by it, but on Airbnb it's officially listed as 'Kettle House'.
Gallery Credit: Airbnb
This Fredericksburg, TX Airbnb Is Like Something 'Straight Out Of A Horror Movie'
We all may remember the house from Nightmare on Elm Street or The Texas Chainsaw Massacre. When you think of these, you don't exactly get all warm and fuzzy inside. Instead, it's more like a lump in your throat or stomach-sinking feeling. Unfortunately, for some travelers, this is the feeling they're getting when they pull up to this home in Fredericksburg, Texas. By the looks of the place from the outside, I get it.
Gallery Credit: Hosted by Vacasa Texas via Airbnb
A Five Level Lindale Treehouse On Airbnb Holds A Soccer Team
If after watching an episode of 'Treehouse Masters' with Pete Nelson and crew, you have the urge to experience treehouse living, there's a place in Lindale that is perfect.
Gallery Credit: AIrbnb
Get Unmatched Views Of The Night Sky At This West Texas Dome Airbnb
Unplug and reconnect with nature at the Dome Airbnb in west Texas.
Gallery Credit: Dome hosted by Trevor
EDIT: This was originally published February 2023