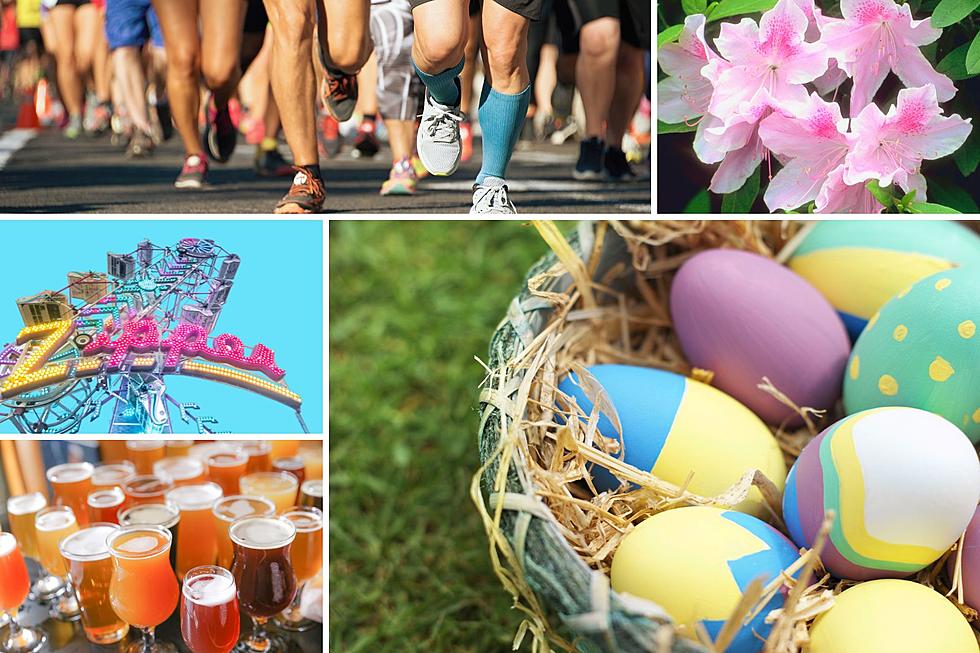 10 Things To Do In East Texas This Weekend – April 1st & 2nd
Getty Images
One thing that is true about your spring weekends in East Texas, there's never a shortage of unique and diversified events to be a part of. Whether it's running for a cause, shopping for your home, riding some carnival rides, or taking part in something historical, there's always an activity for everyone.
It looks like it's going to be another gorgeous weekend for all of these outdoor activities. Lots of sunshine and a comfortable 76 Saturday afternoon and for Sunday's events partly sunny to cloudy with a chance of rain as the day goes on.
Take a look around East Texas and see what all there is to do. When you do a little more digging, you'll find something for your family. These are just a few things that are going on. For more details on any listed event, simply tap (or click) on the highlighted event title.
Here's what's happening around East Texas for the weekend of April 1st and 2nd:
Canton
Trade Day Pavilions
Thursday - Sunday
This is a shopper's paradise. You can find anything and everything from over five thousand different vendors. It can be an antique, a painting, a wood carving, new shoes, curtains, or anything. There's even live entertainment and lots of food too that'll satisfy your appetite while shopping til you drop.
Tyler
Oil Palace - Hwy. 64 East
Thursday - Saturday
You can expect to find anything and everything you would ever need for your child. From quality, gently used children's clothes, toys, strollers, bikes, and furniture, to sporting equipment, baby equipment and so much more. This sale is happening Thursday through Saturday.
Longview
Fredonia Street
This celebration of western heritage will entertain families with four re-enactments of the infamous bank robbery in Longview emphasizing the bravery and heroism of the citizens and law enforcement in Longview in 1894. There will be craft vendors, food vendors, a petting zoo, children's games, and more. The festival gets underway at 10 a.m with the first re-enactment and additional shows at 11, 1, and 2.
Canton
Hwy. 64 East
Monday - Saturday
This six-day event will feature a livestock show, rodeo, midway carnival rides, fair-style food along with lots of fun for the whole family.
Tyler
Saturday
This will be a 10k, 5, and 1-mile run to benefit children from around the Tyler area that has autism. The run will begin at Pollard United Methodist Church on New Copeland Road with the 10k getting started at 8:30 a.m. followed by the other races.
Longview
Saturday
Children from birth to 15 can hunt Easter eggs on designated fields at the Lear Park Athletic Complex. There will be special areas and hunts for those with special needs too. There will be games, arts and crafts, food vendors, the Easter Bunny and eggs! The event is from 10a - 12n.
Marshall
Saturday
600 Martin Lake Rd.
This Easter event is for the entire family. Get your picture taken with the Easter Bunny and take part in hunting more than 20,000 Easter eggs. The Easter egg hunt begins at 10:15 am (April 1st & 8th) and is $10/person, for ages 3+ ($9/person online). There are separate hunt areas for ages 4 and under. Look for the special prize of GOLDEN EGGS hidden around the park! There will also be slides, jumbo jumpers, cow train ride,s and more activities.
Nacogdoches
Nacogdoches County Exposition & Civic Center
Spring Brewfest is the Nac Brew Club's annual homebrew competition. We typically have 40-60 home-brewed beers, meads, and ciders for tasting from home-brewers all over East Texas, West Louisiana & beyond! Tickets are $25 per person and you'll get to sample plenty of beer, wine, and more.
Palestine
Dogwood Trails - drive or walk
THIS IS THE FINAL WEEKEND
Celebrating the beautiful blooms on the dogwood trees each week, the Palestine area will be bursting with beauty and visitors for three weeks! The driving trails feature the dogwoods meandering throughout Palestine and each weekend there are special events planned to feature car shows, wine tasting, rodeo, train excursions, and much more. All the information you need to know is online here!
Tyler
ONE WEEKEND LEFT
Azalea Trails have different routes that can be driven or walked
Dating back to the 1930s, the Tyler Azalea and Spring Flower Trail has a deep history within the city. Each year millions of azalea blooms burst with vibrant color along nearly 10 miles of trails that meander through Tyler's Azalea District. Accessible by vehicle or foot, visitors from around the city, county, state, and nation will be treated to these colorful blooms along with other spring flowers that their owners have perfectly
Brands of Texas
The brands started in Texas
15 Famous People Buried in the State of Texas
Let's look at some of the big names that have been laid to rest in Texas.
Delicious! Nineteen of the Best Food Trucks in the Tyler, Texas Area
One of the most exciting developments in East TX over the past few years is the ever-growing food truck scene. You can find almost anything you're hungry for.
45 Ways to Show Off Your Whataburger Fandom
The Whatastore is full of clothes, collectables and even summer attire that any fan would love.