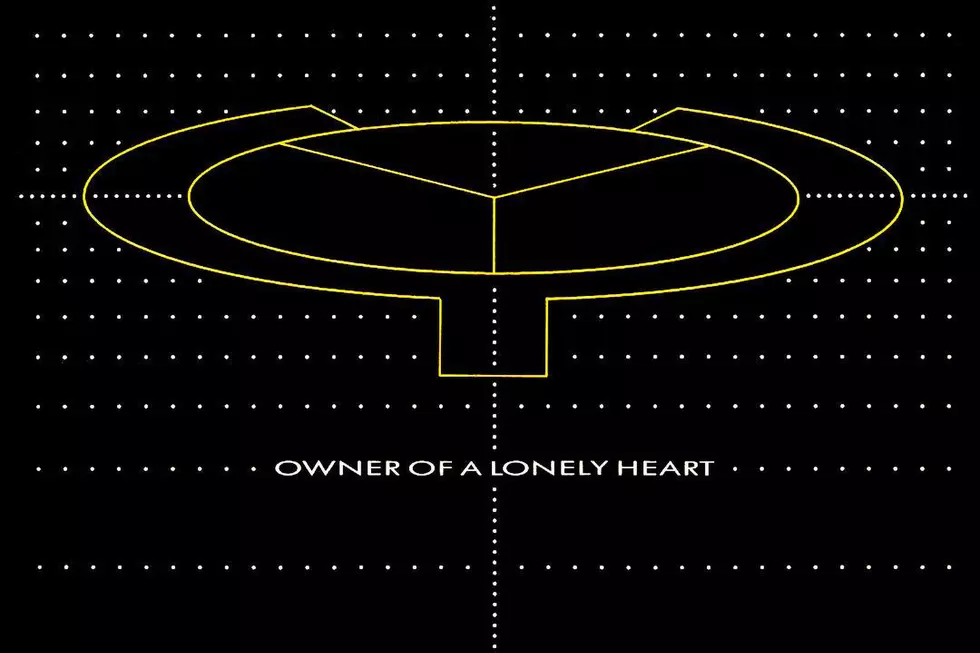 Why Trevor Horn Had to Beg Yes to Record Their Biggest Hit
Atco
Trevor Horn probably expected some challenges when he signed on to produce Yes' 1983 album 90215, having spent a year as their lead singer starting in 1980. But he might not have guessed just how hard it would be to convince the group to record a No. 1 song.
By 1982, Horn's former bandmates Chris Squire and Alan White had split off with Trevor Rabin to form an offshoot group called Cinema. The idea of calling it Yes only arose as the material developed, and Squire invited Jon Anderson to come on board. At this point, none of the other factions among the long list of former members was using the name.
Horn would become a big-name producer, helming so many of the era's biggest pop hits that he'd be called "the man who invented the '80s." But he retained an affection for Yes, and wanted to give them the most successful record they'd ever had. "My wife was furious with me for wanting to do Yes," Horn said in a 2011 interview. "'Yes are finished! They're old farts! Who's interested in Yes?' … But I was a bass player, and Chris Squire, to me, is the only bass player who ever got away with playing melodic parts on so many songs."
Ironically, Rabin had found his way to Cinema after his record deal collapsed because Geffen had wanted him to collaborate with established artists. He wanted to go solo. "I came back to London and we just played together … me, Alan and Chris – and to be quite frank, it sounded dreadful!" Rabin told UCR in 2016. "But there was something. There was a feeling there which was really something we all kind of seemed to recognize, and that was the start of it."
Horn scheduled an early session with Rabin to listen to the music that had convinced Ahmet Ertegun's Atlantic subsidiary Atco to sign the band. "They were all the same kind [of] 'lurrve' kinda thing," Horn said, "and it's never been my thing." Rabin left the room while the tape was still running, and that's when Horn heard "Owner of a Lonely Heart" for the first time. "It had a very powerful intro," he said. "I thought, 'Wow, that's a good gag; I like that gag, and I like the riff.'"
Watch Yes' 'Owner of a Lonely Heart' Video
Then Rabin began singing his first-draft lyrics. "'You don't wanna go dancin', you won't even answer the phone. You're so scared of romancin,' everythin' you do is alone,'" Horn recalled. "I hated the verse! And then it went, 'Owner of a lonely heart' … I said to him as he came out of the toilet, 'This is a hit song; that's a hit chorus.' He said, 'No, this song's not for Yes; I wrote it for somebody else.' I said, 'Yes could do this song – it's a hit song.' 'Oh, I don't know about that …'"
Months into work on 90215, "Owner of a Lonely Heart" was the only song that hadn't been tracked. By that time, Anderson had re-established himself in the band. He said he'd been immediately intrigued when Squire approached him about joining the project.
"He played me the whole album," Anderson told UCR in 2012. "I just said, 'Hey, this is really good music. The production is pretty wild, and I've been listening a lot to Art of Noise and work that Trevor Horn had been doing. And this sampling thing, it's really taking off in these days.'"
The only issue Anderson seemed to have, actually, was with "Owner of a Lonely Heart" – but Horn thought it could work with tweaks to the lyrics and parts of the vocal melody. "It took me until January of 1983 until like July to persuade Trevor rewrite the song," Horn recalled. There were still issues, however, even after at least four revisions. Then Horn had a breakthrough: "About three o'clock [one] morning … I started to sing 'Move yourself,' for which I got 15 percent of the song."
He argued that it was "an improvement on the other tune," but a still-skeptical Anderson remained unmoved. In fact, Horn said he "was a bit rude about it, and he said he wouldn't sing my lyrics on the second verse because he didn't like them. So he rewrote it and did the 'white eagle in the sky.' Me and [engineer] Gary [Langan] decided that we'd shoot the eagle, so if you listen, there's a gun blast on the record – us shooting the white eagle in the sky!"
Listen to Trevor Rabin's Live Version of 'Owner of a Lonely Heart'
Horn ultimately had to go completely overboard to persuade Yes to even try recording the song. "When you've been a singer in a band you can be kinda funny with them," he explained. "I was literally crawling around on the ground, pulling at peoples' trousers saying, 'Puleezze, puleeeze, have a go at this song! We need a single! I'm a hot producer at the moment – if I don't get a single I'll be fucked!' And Chris was like, 'Mmmm, alright, we'll give it a go.' And we spent days with them trying to play it. The intro was fine, but once the thing started, they kept wanting to change the riff. 'Can't you just play it straight and simple?'"
The insistence on electronic drums also became an issue for Yes. "They were very against it because they'd never programmed anything in their whole careers … but I prevailed," Horn said. "Myself and Chris programmed the drum machine." He remembered Rabin's multiple attempts to intervene by adding a much heavier snare sound, but Horn was convinced the drums needed to sound like Police co-founder Stewart Copeland's work. Multiple mixes were ultimately created, until "Ahmet Ertegun stopped them and made them put out our mix of it," Horn added.
Anderson ended up playing a key role in breaking the creative logjam. "[With] Owner of a Lonely Heart,' the chorus was already written by Trevor Rabin and he just couldn't figure out the best way to go about the song," Anderson told UCR. "So I started doing a rhythm that jumped in and out because of the arrangement, and me and Trevor sketched out the first verse – and then Trevor said, 'Well, you carry on.'
"By the time we finished – it probably took a couple of days and a couple of sessions – we knew that the track was very, very interesting and very, very new and it sounded really good," Anderson added. "It just had that hook, the chorus that everybody loves."
Watch Yes Reunite to Perform 'Owner of a Lonely Heart'
"Owner of a Lonely Heart" was released as a single in October 1983, and Yes' exploration of the dance-rock genre delivered their only No. 1 hit in the U.S. – complete with a video by longtime Pink Floyd collaborator Storm Thorgerson. "We were put together and put suits on and told to stand on top of this skyscraper in London," Anderson recalled, "and then we're in the country with animals and birds and snakes and things. … We just stood around said 'okay, we'll do what you tell us to do' and that was it."
Despite their foray into newer sounds, Yes was still very much a "music band and not the commercial entity that the record companies wanted us to be," Anderson argued. "They tried many times to push us around into becoming more commercial, if you like, and I think the more they pushed, the more I pushed the opposite way – because I'm into the adventure of music and that's all I like."
Nevertheless, the slow-developing "Owner of a Lonely Heart" is still Yes' most-played song on radio, ahead of "Roundabout" and "I've Seen All Good People."
"You know, [A&R executive] Ron Fair had said to me, '"Owner of a Lonely Heart" is a No. 1,' and believe it or not, I had sent the material to a number of people – RCA, Atlantic, Phil Carson and various people … and [Arista boss] Clive Davis!" Rabin remembered. "I still have the letter where Clive – I don't know if he was dictating it to one of his guys, but it's from Clive – saying, 'While we feel your voice has Top 40 appeal, we feel the material is far too left field for the marketplace today.' He passed on it."
Years later, "when 'Owner' went to No. 1, I took a photograph of the Cashbox chart and I sent a picture to Clive!" Rabin added. "Who knows if he even saw it? Maybe his secretary said, 'This will put him in a bad mood and threw it out.' I don't know!"
20 Greatest Comeback Albums
Becoming a successful artist is difficult. Remaining on top forever is downright impossible.
Revisiting Yes' First Post-Chris Squire LP