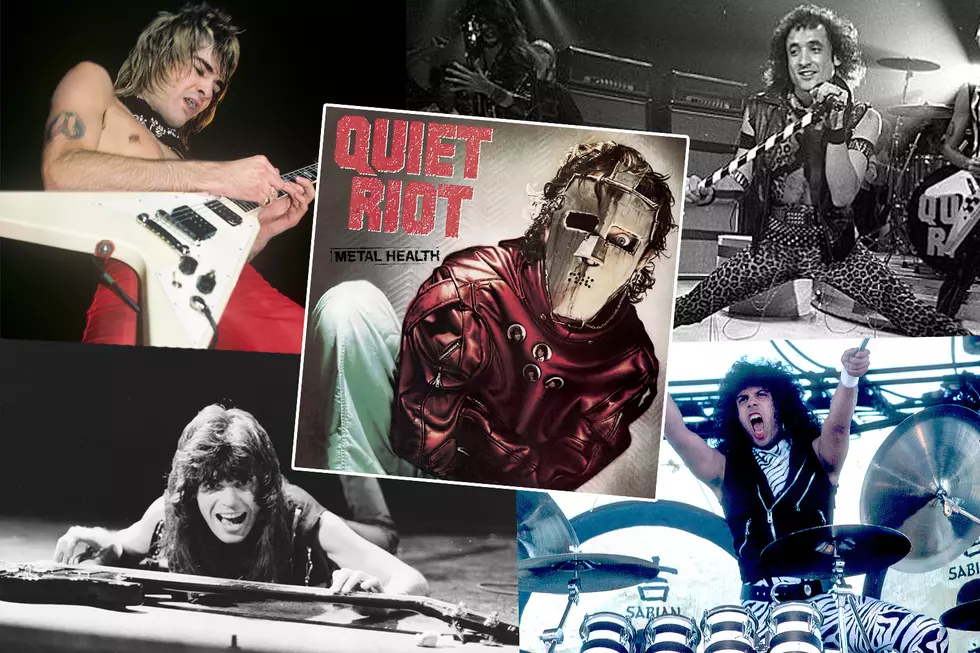 Quiet Riot's Post-'Metal Health' History: 40 Mad, Mad, Mad Facts
Pasha / Getty Images
Quiet Riot made music history when they became the first metal band to score a No. 1 album in 1983. Metal Health opened an interesting chapter for the Los Angeles group, who lived as fast as some of their tunes and crashed hard, seemingly as soon as the glory years had begun.
"Usually people start off small and get big," lead vocalist Kevin DuBrow said more than a decade after Metal Health knocked the Police's Synchronicity out of the top spot. "We started out the other way around."
That's only partially true. Metal Health was the first album featuring the lineup of DuBrow, drummer Frankie Banali, guitarist Carlos Cavazo and bassist Rudy Sarzo, the latter of whom came in midway through the sessions to replace Chuck Wright, but the roots of the group went much further back.
Guitarist Randy Rhoads and bassist Kelly Garni founded Quiet Riot in the mid-'70s with DuBrow and drummer Drew Forsyth, recording two albums that were issued only in Japan. Even then, inner relations were contentious: Garni left due to a drunken plan to harm DuBrow, which was thankfully thwarted. A variety of factors eventually sent the members in separate directions. Rhoads ended up in Ozzy Osbourne's band.
As Quiet Riot reconvened in 1982 with a new lineup, DuBrow understandably drew a line between the new band and the history of the old. That mindset allowed Quiet Riot to make a fresh start, even if they quickly unravelled in the years that followed the success of Metal Health.
Here are 40 Quiet Riot milestones that followed the chart-topping Metal Health.
No. 1. Quiet Riot snagged what became a crucial slot at the US Festival. They were the first band to take the stage on May 29, 1983, for Heavy Metal Day. Kevin DuBrow later admitted that they snagged the booking when John Mellencamp dropped off of the weekend's lineup. "The money we earned allowed us to continue on the road," he told the the Los Angeles Times. "As we toured, the record did better and better."
Watch Quiet Riot perform 'Danger Zone' at the US Festival
No. 2. The band opened shows for ZZ Top on the Eliminator tour, starting in June 1983. They also shared the stage in the same era with Def Leppard and Scorpions.
No. 3. A cover of Slade's "Cum on Feel the Noize" arrived as the first single from Metal Health on July 11, 1983, nearly four months after the album's March 12 release. When Quiet Riot's version hit No. 1, Slade was inspired to give things another shot. "We're happy Quiet Riot had such a big hit with the song," frontman Noddy Holder said in an interview with the Fort Worth Star-Telegram. "We were always convinced if the material was good that it would stand the test of time."
Watch Quiet Riot Perform 'Cum on Feel the Noize' in Concert
No. 4. Quiet Riot hit the road on Aug. 7, 1983, with Black Sabbath as their tour for the Born Again album got underway.
No. 5. The Metal Health album hit No. 1 on the Billboard album charts in November 1983, marking a first for a metal band. Metal Health replaced Synchronicity by the Police. "We were incredibly thrilled, because you know, every kid who wanted to be a musician," Frankie Banali told UCR in 2015. "That was the dream, to actually make a record and go out on the road and tour. But to make a record and have it reach No. 1? It was phenomenal." "Metal Health (Bang Your Head)" then followed on Dec. 9 as the second single from Metal Health.
Watch Quiet Riot's Video for 'Bang Your Head (Metal Health)'
No. 6. Quiet Riot released their next album, Condition Critical, on July 27, 1984. The record featured another Slade cover, this time for "Mama Weer All Crazee Now." "Actually, we wanted to record it for [Metal Health]," bassist Rudy Sarzo told the Minneapolis Star Tribune back then, "but 'Cum on Feel the Noize' was less known than 'Crazee.' Then all of the radio DJs told us to do it, so we did it now."
No. 7. Kevin DuBrow made a bold claim in September 1984: "We like to think of ourselves as the hard rock Beatles," he told Cleveland Scene. Wisely, he added a bit of additional clarity. "I'm not comparing us in terms of talent, but more in terms of being able to attract a very wide audience. … There's something in Quiet Riot for everybody!"
No. 8. A Pennsylvania college gave a thumbs down to the idea of a Quiet Riot concert in November 1984. "Officials at Scranton University told me they're not ready for that kind of music and they're simply not interested," Gary Zurenda shared with the Citizen's Voice. Ironically, they had performed in Scranton the previous year. "The band attracted almost 2,000 people and there weren't any real problems."
No. 9. MTV gave away the chance for Quiet Riot to spend Christmas with a fan on Dec. 25, 1984. They picked Dru Rigney of Santa Ana, Calif., as the grand prize winner. "I had entered the contest a few weeks before and they called me and told me I had won," he later remembered. "I invited about 50 guests, plus as many neighbors as I could so there wouldn't be any problems."
Watch the Promo for MTV's Quiet Riot Christmas Contest.
No. 10. Original Quiet Riot bassist Chuck Wright returned in January 1985 as Rudy Sarzo departed. "He never really left the band," Banali toldthe Asbury Park Press, when asked about Wright. "He was always waiting in the wings."
No. 11. Members of Quiet Riot spent two days in the studio in May 1985 recording the charity single "Stars," by Hear 'n Aid, the all-star collective assembled and spearheaded by Ronnie James Dio. The project was put together by Dio to help raise money for famine relief in Africa.
Watch Hear N' Aid's Video for 'Stars'
No. 12. Starship's Knee Deep in the Hoopla album is released on Sept. 9, 1985, and includes background vocals by Kevin DuBrow on "Rock Myself to Sleep."
No. 13. Quiet Riot released QR III on July 6, 1986. The final album of the classic era with Kevin DuBrow featured a notably different and synth-heavy sound. "We wanted something that would color our songs in a different way without losing the hard edge our material has," Banali told Asbury Park Press. "So we brought in the keyboards. It has opened some new avenues for us musically."
No. 14. Poison hit the road with Quiet Riot in 1986 and found that it was a tough gig. "We opened for Quiet Riot in clubs and at the time Kevin Dubrow and their tour manager were not the easiest people to work with," drummer Rikki Rockett said in Nothin' But a Good Time. "We had too many restrictions on us. A lot of the audience were there to see Quiet Riot. They didn't give a damn who the opening act was." At least one reviewer saw a bit of light at the end of the tunnel for these future hair-metal superstars: "Maybe with a little luck and a lot of radio airplay, Poison may infect the masses."
No. 15. Kevin DuBrow was fired in February 1987 and replaced by Rough Cutt vocalist Paul Shortino. Banali said management wanted DuBrow removed, but that drink and drugs also played a part. "We all indulged, but Kevin could be told nothing by no one," he told Classic Rock. "His lifestyle choices had made it impossible for us to continue with him."
No. 16. Quiet Riot released QR, their first and only album with Shortino at the helm, on Oct. 21, 1988. "Stay With Me Tonight," the lone single released from QR, was a song that Shortino had originally written for the second Rough Cutt album.
Listen Quiet Riot's 'Stay With Me Tonight'
No. 17. Quiet Riot was still a going concern, but Frankie Banali's mother was sick and he didn't want to spend money touring, according to Paul Shortino. Then the frontman's own mother got sick, and he got disillusioned with the band's situation and decided to leave. "That first record was just scratching the surface of where we could have [gone] with that band," Shortino later recalled. "I decided that it we're not going to tour, I'm going to leave the band."
No. 18. Quiet Riot broke up in the middle of 1989 and Frankie Banali joined W.A.S.P., having already recorded drums for their album, The Headless Children, which was released in April. Banali continued to record with W.A.S.P. through the early 2000s.
Listen to W.A.S.P. Perform 'The Real Me' with Frankie Banali
No. 19. The Andrew Dice Clay comedy Adventures of Ford Fairlane was released on July 11, 1990. The movie featured former Quiet Riot guitarist Carlos Cavazo in a cameo role with the fictional band Black Plague, which also included Motley Crue's Vince Neil on vocals.
Watch the Trailer for 'Adventures of Ford Fairlane' Featuring 'Black Plague'
No. 20. Quiet Riot was resurrected in the early '90s, with Kevin DuBrow and Carlos Cavazo coming back on board Frankie Banali then rejoined the group as they were midway through working Terrified, released on July 19, 1993. The union brought an end to a long period of silence. "They needed a drummer to fulfill a commitment for about a half dozen shows," Banali later recalled. "I had not spoken with Kevin or Carlos in nearly five years, but it was really natural for me to get together with them.
No. 21. Quiet Riot issued their next record, Down to the Bone, on March 1, 1995. Banali, Cavazo and DuBrow were joined by early-era member Chuck Wright for the record, which features a noisy cover of "All Day and All of the Night" by the Kinks. The LP arrived amid the grunge era, but DuBrow was unfazed. "At this point we are not selling millions of records, so it is pointless to try to predict where the trends will go," he said back then. "You should please yourself first, and anybody who has any taste will follow."
Listen to Quiet Riot's Version of 'All Day and All of the Night'
No. 22. The classic Metal Health lineup came back together in 1997 when Sarzo rejoined. Interestingly, the reunion happened after Marilyn Manson asked for this specific grouping to play one of his parties.
No. 23. The Metal Health lineup of stayed intact for Guilty Pleasures. The band's 10th studio album= was released on May 29, 2001, and featured a set of songs which DuBrow said were painstakingly written. He then reviewed and removed songs from this large stash of ideas, removing those he felt weren't at the same level as the classics they were known for.
Listen to Quiet Riot's 'Rock the House'
No. 24. Former vocalist Paul Shortino unexpectedly returned to Quiet Riot in the summer of 2002 for three shows after DuBrow came down with the flu. Frankie Banali later revealed that guitarist Carlos Cavazo actually suggested they contact Shortino, since the pair had stayed in touch after Shortino departed from Quiet Riot in 1989.
No. 25. Quiet Riot then went on hiatus beginning in late 2003, giving DuBrow time to release his first solo album, In For the Kill on May 25, 2004. The project was initially planned as a Quiet Riot covers album, an idea hatched by Shrapnel Records label owner Mike Varney. The idea took a different path since the band was inactive when the request came in. DuBrow rounded up some of his musical friends, including Great White's Michael Lardie, to tackle a wide range of material – including songs by T. Rex, Deep Purple and Nazareth.
Listen to Kevin DuBrow Perform 'Razmanaz' by Nazareth
No. 26. Two metal camps converged very briefly as L.A. Guns mastermind Tracii Guns joined up with Quiet Riot in December of 2005 as his previous band, Brides of Destruction, was coming to an end. Unfortunately the union didn't survive beyond rehearsals. The band issued a statement the next January addressing the change. "Although we all had high hopes and the best intentions for the success of our association, it became evident collectively that the musical diversity of styles would not work to our mutual satisfaction," they said. "Rather than go into the recording studio unsure of the outcome, Quiet Riot and Tracii Guns have decided to amicably part company but remain friends and hold each other in the highest respect.
No. 27. Quiet Riot released Rehab on Oct. 3, 2006, and it became their final studio album with Kevin DuBrow. Banali said DuBrow relied on an important ally after struggling with some of the new material the drummer wrote with collaborator Neil Citron. "Many of the songs that Neil and I brought to the table musically were foreign in style to what Kevin was used to," Banali said. "So he enlisted the assistance of old friend Glenn Hughes to lend a helping hand with lyrics and melodies to some of those songs." The former Deep Purple legend also lent his vocal talents on a cover of Spooky Tooth's "Evil Woman."
Listen to Quiet Riot's 'Evil Woman'
No. 28. DuBrow passed away from an accidental cocaine overdose in November 2007 at his Las Vegas home. Banali would remember him as "an amazing performer, my best friend and an amazing guy."
No. 29. Banali initially said Quiet Riot would not continue after DuBrow's passing, but had a change of heart in September 2010. Their new lineup featured bassist Chuck Wright, guitarist Alex Grossi (who first toured with the band in late 2004) and vocalist Mark Huff. The relatively unknown singer had previously been part of a Van Halen tribute band, and remained in Quiet Riot through early 2012.
No. 30. Medical issues with Huff forced the band to recruit former Montrose vocalist Keith St. John for shows in February 2012. This was initially explained as a temporary move, but it actually touched off what often seemed like a continual revolving door of singers. A month later, vocalist Scott Vokoun was added; he kept the job for close to two years.
No. 31. Love/Hate singer Jizzy Pearl, a veteran of the hard rock scene who had also done time previously with L.A. Guns and Ratt, joined Quiet Riot in November 2013, and he proved to be a more stable replacement.
Watch Quiet Riot Perform 'Mama Weer All Crazee Now' with Jizzy Pearl on Vocals
No. 32. Banali documented the history of Quiet Riot with the film Well Now You're Here, There's No Way Back, which premiered on April 29, 2014, at the Newport Beach Film Festival. Helmed by his future wife Regina Russell, the movie documents the struggles and the occasional humorous moments that Banali faced as he looked to carry Quiet Riot forward following DeBrow's 2007 passing – including a rapid-fire section that details their many lineup changes with good humor.
Watch the trailer for 'Well Now You're Here, There's No Way Back'
No. 33. Quiet Riot 10 arrived with Pearl at the microphone on June 27, 2014. This 12th album featured the first studio recordings without Kevin DuBrow, though the late vocalist is represented with a selection of additional live material recorded in 2007 prior to his passing.
Listen to 'Rock in Peace'
No. 34. Jizzy Pearl left Quiet Riot at the end of 2016 and was promptly replaced by one-time Adler's Appetite vocalist Seann Nicols. By March of the following year, however, he was out the door. Nicols' departure was awkward, as the group had just announced a new album the previous month and released the initial single, "The Seeker." Moving quickly to fill the void, American Idol finalist James Durbin was announced as the band's sixth lead singer of the decade. Road Rage was delayed so that Durbin could record new vocals for the songs.
No. 35. Road Rage was finally released on Aug. 4, 2017. Banali said Durbin had been his original choice for vocalist, but logistics had forced him to go with Nicols instead. "I went with my third and final option," he told this writer in 2017. "After doing five live shows [with Nicols], it became very apparent to the band – not just me, but to the band as a whole, meaning Alex and Chuck – that this situation was not working."
Listen to Quiet Riot's 'Freak Flag'
No. 36. Banali revealed on Oct. 21, 2019 that he had been diagnosed with stage 4 pancreatic cancer, the same disease that claimed his father's life. He nevertheless vowed to make his way back to the stage, despite having missed a number of Quiet Riot concerts prior to sharing the sad news. "I am feeling much better and stronger now," Banali said then. "I intend to play the Quiet Riot concert at the Whisky a Go Go on Saturday, Oct. 26, and to continue touring in 2020 with Quiet Riot, so I hope to see you there."
Frankie Banali Reunites with Quiet Riot at the Whisky
No. 37. The final Quiet Riot album with Banali on drums was released on Nov. 8, 2019. Hollywood Cowboys also marked the return of Jizzy Pearl, who came back as Durbin departure was belatedly confirmed. One of the highlights is the spaghetti western-themed video they made for "In the Blood." The LP was largely completed and about to be mixed when Banali learned of his cancer diagnosis, he told UCR. "I've already started writing for the next record," he added, "and have gone in and cut two drum tracks for a future Quiet Riot record."
No. 38. Banali passed away in 2020. His family issued an official statement saying he "put up an inspiringly brave and courageous 16-month battle to the end and continued playing live as long as he could. Standard chemotherapy stopped working, and a series of strokes made the continuation on a clinical trial impossible. He ultimately lost the fight at 7:18PM on Aug. 20 in Los Angeles surrounded by his wife and daughter."
No. 39. Quiet Riot confirmed that they'd move forward in a statement released nearly a month after Banali died. "It was Frankie Banali's wish that the band continue and we keep the music and the legacy alive." They officially welcomed former Type O Negative drummer Johnny Kelly, who had been playing shows when Banali couldn't. Guitarist Alex Grossi and bassist Chuck Wright filled out the rest of the lineup, with Pearl continuing on vocals. This lineup remained intact until the following August when Rudy Sarzo returned, replacing Wright on bass. Sarzo played his first concert with Quiet Riot in nearly two decades on Nov. 6, 2021.
No. 40. Quiet Riot unveiled a previously unreleased demo called "I Can't Hold On" that Kevin DuBrow worked on with Grossi in 2003, also featuring Banali on drums. With Sarzo back, the classic Metal Health lineup was almost intact on the song, which was included on a reissue of the Rehab album. Sarzo said helping to complete the track was an emotional experience. "I was all by myself, but [spiritually], Frankie and Kevin were in the room with me," he told UCR. "I know their musical tastes so well, and what they liked. That helped [shape] my perception of what my contribution should be – so everybody's happy."
Watch Quiet Riot's Video for 'I Can't Hold On'
Top 50 Classic Heavy Metal Albums
We take a look at some of the heaviest, loudest and most awesome records ever made.