Phil Anselmo Busts Head During Performance [VIDEO]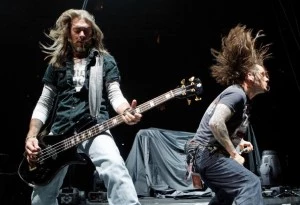 Former Pantera front man, Phil Anselmo busted his head open during a performance in New York City last night. Phil was performing with his new band Down when he accidentally had his head cracked open when guitar player Pepper Keenan hit him in the head during the song "Lifer" which he dedicated to the late Dimbag Darrell.  More after the jump.
If you've ever seen him perform, you know that Phil is crazy, and the accident didn't slow him down at all.  Like a true bad-ass, he finished the show with a bloody head.  Lucky for you and me, a concert goer caught video of Phil performing after the head bash!
Best of Classic Rock 96.1